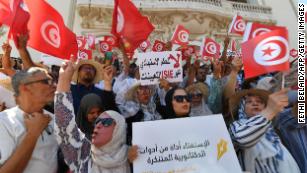 Abu Dhabi, UAE (CNN)Once regarded as the sole democracy to have emerged from the mass protests of the Arab Spring in 2011, Tunisia on Tuesday passed a newly minted constitution that analysts fear could be the final nail in the coffin of its democratic era.
With no minimum voter threshold, only 30.5% of eligible voters took part in Monday's poll, according to the 
latest figures by the electoral commission
, with approximately 95% of those who participated voting 'yes.'
Analysts say that a new constitution would be the final blow to the social and political gains made by the North African country since the Arab Spring, setting the country on a path that will be difficult to return from.
"We will establish a new republic that is different from the one we have had over the last ten years," Tunisian President Kais Saied 
said Monday on state TV
 after casting his vote.
When waves of protest rocked the region 12 years ago, engulfing Tunisia, Egypt, Libya, Algeria, 
Syria
 and Yemen, Tunisia temporarily rose as the sole success story to emerge from the Arab Spring.
Egypt 
and Algeria soon came under strict military rule; critics say freedoms and rights have since regressed in both countries. Meanwhile Syria, Libya and Yemen plunged into bloody civil wars. To this day they remain bitterly divided and wracked by grueling poverty.
However, progress in the former French colony has also stalled.
Last summer, faced with anti-government protests following a spike in Covid-19 cases and growing anger over chronic political dysfunction and economic malaise, Saied dissolved the 2014 constitution and began ruling by decree.
Saied has 
defended his decrees
, saying they are driven by a need to "correct the course of the revolution" and to rid the country of corruption. Among Saied's targets was the moderate Islamist Ennahda party, whose leader Rached Ghannouchi remains under investigation for money laundering (Ghannouchi denies the allegations, which he has denounced as politically motivated).