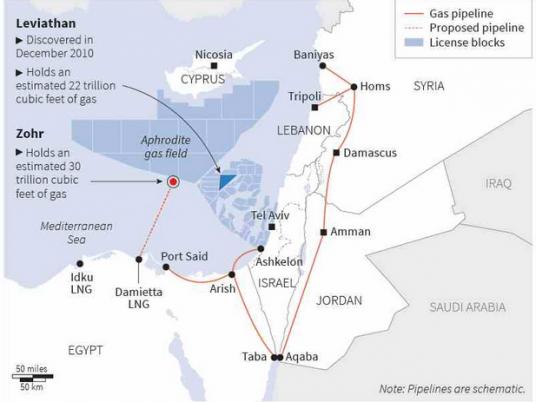 Italian energy company Eni will sell a 30 percent stake in its giant Egyptian offshore gas field Zohr to Russia's Rosneft for $1.575 billion, pressing ahead with asset sales to fund investments and offset weak oil prices.
Eni, which owns 90 percent of the Shorouk concession containing Zohr, said on Monday that Rosneft would pay $1.125 billion and reimburse around $450 million for investments already carried out by Eni.
The deal comes less than a month after Eni's sale of a 10 percent stake in Zohr to BP at the same implied price, bringing overall proceeds to around $2.1 billion.
Eni, whose cash flow fell 19 percent in the third quarter due to low oil prices, pledged at the start of the year to sell 7 billion euros ($7.43 billion) worth of assets to 2019 — 5 billion euros in the first two years.
"This is a great success for Eni to receive $2.1 billion for a year's work and have major partners to share the risk and capex," said Bernstein oil analyst Oswald Clint.
At 1739 GMT Eni shares were up 3.7 percent with Rosneft shares up 4.7 percent in Moscow.
Oil prices rose as much as 6.5 percent on Monday after OPEC and some of its rivals reached their first deal since 2001 to jointly reduce output, though are still well below values above $100 a barrel seen in 2014.
Selling down stakes in oil and gas fields it operates is part of Eni's so-called "dual exploration" strategy to raise cash to fund development and support dividends. In the last four years, Eni has raised about $6.3 billion in this way.
Zohr, discovered by Eni in 2015, is the biggest gas field in the Mediterranean with an estimated 850 billion cubic metres.
The approval process for its development was completed in February and gas should be produced by the end of 2017.
In November, Eni Chief Executive Claudio Descalzi said he wanted to cut Eni's stake in Zohr to 50 percent.
Rosneft, which like BP, has an option to buy a further 5 percent stake, said in a statement that its total investment in the project would reach $4.5 billion in the next four years.
"We suspect BP and Rosneft will take the additional 5 percent next year given the high return of this field," said Bernstein's Clint. Rosneft did not mention the option.