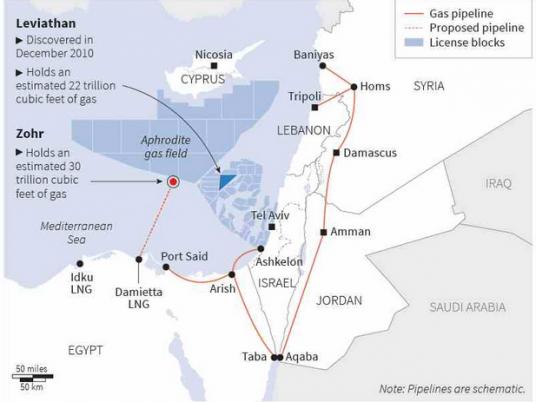 Eni's giant Zohr gas find in Egypt this month, a gamble taken under the noses of competitors, marked the Italian major's rapid rise to preeminence in the hunt for big new fields.
Its risk-taking new leadership went ahead with what rivals described as an opportunistic drilling plan, leaving peers BP , BG, Royal Dutch Shell and Total regretting they missed a golden opportunity.
Zohr is Eni's fifth major oil and gas discovery in just 3 years giving it the best track record in reserve replacement as well as one of the lowest cost bases.
The 30 trillion cubic feet gas field, the biggest ever discovery in the Mediterranean, pleased investors, vindicating CEO Claudio Descalzi's new strategy of revisiting mature basins where infrastructure and know-how are already in place and where new in-house technologies and geological skills can be used to discover more.
But it left some majors with a bitter taste. The field used to be part of a huge block where Shell sunk wells, all of which turned out dry or non-commercial. The area was later repackaged and offered to others, including Eni and BP.
Earlier this year Eni opened a data room to find a partner to help develop Zohr. None of those that participated made a bid before the room closed in July — just one month before Eni made its drilling breakthrough.
"BP, BG, Total and Edison all went into the data room but made no offer because they simply didn't believe in it," two sources close to the matter said.
The companies declined to comment but an insider at a rival major said it had not been straightforward. Eni had been opportunistic and taken a gamble by choosing to use 2D rather than more sophisticated 3D seismic data testing.
"No one took the risk to join. Obviously everyone is regretting it now but it was turned down because it wasn't slam dunk," the source said.
Descalzi, a trained reservoir engineer who took over as CEO in May last year, put Eni's success in Egypt down to the different sequencing models it used based on experience gleaned by its discovery team elsewhere.
"We were looking for different geological sequences, not the classical sand reservoir but a carbonate reservoir, the same model as in our finds in Venezuela and Kazakhstan," he said.
A pitch to the broader industry had been made earlier. Last year, Eni's exploration chief Luca Bertelli publicly presented a paper at the oil and gas conference in Alexandria laying out in detail the geology of the area and its potential.
DIVIDENDS CONCERN
In the last 7 years Eni has discovered more than 10 billion barrels of oil equivalent, equal to 2.5 times its production, with a 2014 organic reserves replacement ratio of 112 percent, well above peers.
The new finds have cheered investors with the prospect of cash flow from higher production and the sale of prize acreage — not just the wholly owned Zohr, valued by Italian investment house Mediobanca at up to 5 billion euros, but in Mozambique and Congo too.
But though Eni was the first major to cut its dividend last year to ease a stretched balance sheet, doubts still remain on the thorny question of returns.
"The key concern is dividends for the next 2-3 years which will need divestments to be covered. If they don't deliver something in the next 3-6 months then there could be another cut on the horizon," said Jason Kenney, oil analyst at Santander.
The 60-year-old Descalzi, head of E&P before nomination to the top spot last year by the government of Matteo Renzi, is looking to turn Eni into a leaner exploration-focused animal and has put the emphasis on simple conventional projects in emerging basins or legacy assets.
This comes after an operational disaster under the previous management at the very complex giant Kashagan project in Kazakhstan. The $50 billion development has seen a decade of delays and cost overruns and Eni was ultimately stripped of the operatorship by its fellow partners Shell and Exxon.
"Zohr is top quality clean gas that can be gotten to market fast. It costs one third that of the Arctic and a fifth that of fracking," says Davide Tabarelli, head of energy think tank Nomisma Energie.
Crucially, Descalzi has made sure discovery budgets remain flush and made sure there are more Eni engineers on site to get a better grip on projects.
Eni has traditionally held the discovery side of its business in high esteem. So much so that many of the streets around the group's Milan headquarters in San Donato are named after famous geologists.
(Additional reporting by Dmitry Zhdannikov and Oleg Vukmanovic, editing by William Hardy)