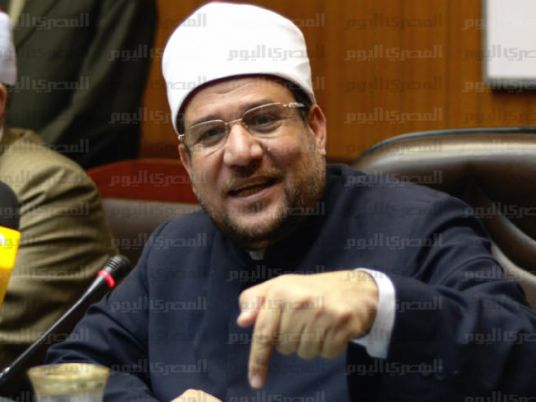 The Endowments Ministry has backtracked on its recently announced policy of enforcing pre-written Friday sermons in mosques across Egypt.
On Thursday, the Ministry's Religious Sector distributed a leaflet to all its directorates announcing that Islamic preachers giving sermons on Friday would no longer be obliged to follow a script issued by the ministry.
Instead, the ministry will now issue an optional script, requiring preachers only to stick to the designated topic and speak for between 15 and 20 minutes.
The ministry announced that next Friday's topic would be on the dangers of terrorism and corruption.
The Parliamentary Religious Affairs Committee has discussed the matter with Religious Endowments Minister Mohamed Mokhtar Gomaa, according to a statement from committee chairman Ossama al-Abd on Wednesday.
Speaking to parliamentary journalists, Abd said that the minister signed a document agreeing that scripted sermons will be optional from now on.
On July 26, Al-Azhar's Council of Senior Scholars, headed by Grand Sheikh Ahmed al-Tayyeb, reached a consensus agreement rejecting the government's new policy of official, pre-written sermons for Friday prayers, saying the policy was damaging to religious discourse.
The council rejected the policy devised by Gomaa, saying that relying on official sermons would cause imams to become shallow in their thinking, which would in turn reduce their ability to counter extremist ideas and the extremist groups that use religion as a cover.
Rather than being provided with scripts to read from during sermons, imams should be provided with the necessary training and resources to face extremist ideas, said the council in an earlier meeting over pre-written sermons in July.
The ministry's new policy for Friday sermons was enforced as of Friday July 22. The ministry handed out copies of the standardized sermon — about abstinence and generosity — to mosques across the country, calling on preachers not to violate the new rule.
However, preachers who objected to the scripted sermons did not abide by the rule, delivering their own sermons as usual.
The ministry has been providing imams with topics for their sermons at Friday prayers since 2014, but the new rule — now canceled — would have confined all preachers to reading from the same script.
Combating security threats linked to extremist Islam has been at the top of President Abdel Fattah al-Sisi's agenda since he took power from the ousted Muslim Brotherhood in 2013, and it is believed that the sermon policy is the government's latest move to stamp out hotbeds of the group.