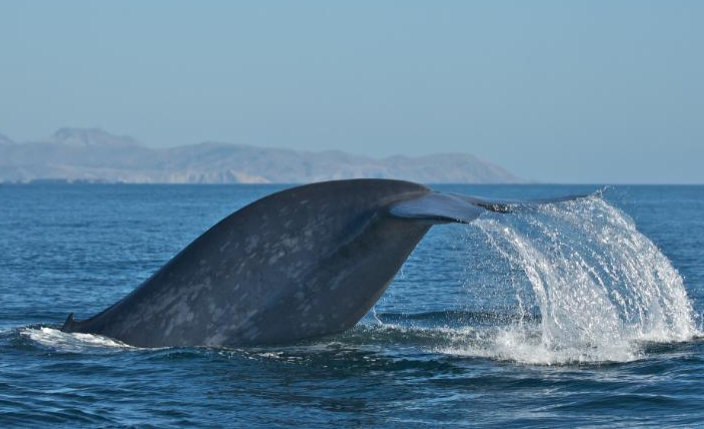 A blue whale was spotted on Thursday for the first time in the Red Sea's Gulf of Aqaba and is being closely monitored by the Environment Ministry, the ministry announced in a statement.
Environment Minister Khaled Fahmy instructed field monitoring teams in the Red Sea and South Sinai reserves to track the whale and photograph it throughout its journey in the Red Sea.
The Environment Ministry also warned citizens to keep their distance from the blue whale and not to swim by its side, even though it is not predatory and does not pose a danger to humans.
Director of the Red Sea Reserves Ahmed Ghallab said that the emergence of the blue whale in the Gulf of Aqaba is the first of its kind and has not been monitored by any researchers or fishermen there before.
In a statement to Al-Masry Al-Youm, Ghallab said that the blue whale entered the Red Sea from the Indian Ocean through Bab al-Mandab and swam about 2,000 kilometers to the Gulf of Aqaba.
The blue whale is the largest known animal to have ever existed on earth and is placed on the International Union for the Conservation of Nature (IUCN)'s red list of endangered species.
The observed whale is about 24 meters long and is a subspecies known as the pygmy blue whale. Blue whales can reach 35 meters long, and the heaviest recorded weight of a blue whale was 173 tons.
Whales belong to a group of mammals called cetaceans which constantly migrate around the world for food and reproduction. They feed on small crustaceans and can be found in oceans globally.
The emergence of this type of whale in the Red Sea is a rare phenomenon that will be studied by the Environment Ministry, the statement said, pointing out that the whale may have lost its migration route while trying to reach cold areas in the north.
Edited translation from Al-Masry Al-Youm
Photo credit: CNN