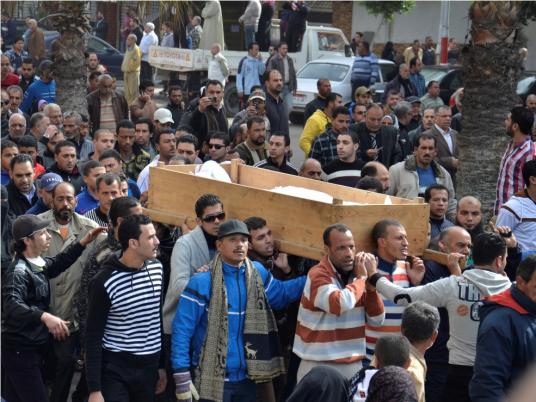 PORT SAID — While wall graffiti in Cairo is fixated on the dead, those of Port Said are fixated on the would-be dead.
The faces of Homos, Outa and other defendants from among the ultras of the Port Said football massacre are stencilled on the walls of the city at its entrance, with the writing, "Justice for those incarcerated." Twenty-one of the case's 75 defendants were sentenced to death in Cairo Saturday, accused of killing 72 football fans in the aftermath of a February 2012 game between Port Said's Masry club and Cairo's Ahly.
With the Port Said battle moving from a football pitch, to a courtroom, to the street that witnessed deadly clashes, claiming 37 lives by press time, the issue has clearly become more than just football.
"It was a phone call that sent him to the noose," Um Fouad, mother of one of the sentenced defendants, said through tears.
Standing at the corner of a street where crowds are still erupting in anger and witnessing more deaths, she screamed at a loss she thought was inconceivable: "His dad has died. He was the only person in my life."
According to his mother and his friend Mohamed Farouq, Fouad al-Tabei, a Masry ultra, gave a phone interview to football TV host Medhat Shalaby. In the interview, Fouad said, "'When [Ahly supporters] come to Port Said, if they try to mess with us, we will screw with them. If not, they are our guests and we carry them over our heads.' He was convicted for this phone call," Farouq said.
Next to him, Abu Homos, father of another sentenced Masry ultra, shrugged. "'General' Medhat Shalaby said [Homos'] name on TV. He made them stars on TV, only for the prosecution to add their names to the case later," he said, shortly before comforting his wife, whose voice had become inaudible due to nonstop screaming and crying.
"Why is my son being killed? Because he went to support his team?" she said tearfully, as best as Egypt Independent could gather from her broken voice.
Unlike Tabei and Mohamed Homos, Mohamed Shaaban is not a football supporter. He is a taxi driver who was arrested from his house at 3 am following the day of the match he didn't attend, "just for a question, the police told us. But the question turned into a death sentence," his mother said.
"He was a polite man, didn't talk or bother anyone, never entered a police station," she added, struggling to combat the image of the killer that was cast upon her son, twice — once when he was arrested from his bedroom, and then when he was given the death sentence.
Whether their accounts of their sons' innocence are true is hard to corroborate. But now the matter transcends the 21 death sentences.
"It is beyond the case now. Port Said is dying," said Abu Homos, who called it Cairo's attempt to flex its muscles on the city. "I tell [President] Mohamed Morsy, the [Muslim] Brothers, the Armed Forces and the police, from the 750,000 people of Port Said, let us bury our dead."
Since Saturday's verdict, clashes between protesters and security forces in Port Said have been incessant. It started when the families of convicted defendants gathered around the prison where their sons were incarcerated after hearing that they would be transferred away.
As families walked in the funeral the following day to mourn the death of 28 civilians in Saturday's clashes, fighting erupted again and claimed seven lives, bringing the total to 37. And it goes on.
Abdel Rahman Ferh, head of the Port Said public hospitals, said most of Saturday's deaths were caused by live bullets and birdshot. He added that injuries from live bullets have not been uncommon in Port Said, with the proliferation of arms in the last few months, especially following the Libyan revolution.
And the state, from what many say, has been, at best, unresponsive. Today, the country's leadership is perceived with much more bitterness.
The people of Port Said say that Cairo's political antagonizing of their city predates the tragic football match case. For one, policemen accused of killing protesters during the revolution were found innocent. For the families of convicted defendants, this is an inconsistency.
"Could Morsy afford to have his heart ache over his children just because he wants to keep his chair?" said Shaaban's mother, whose other son, Youssef, is among the rest of the defendants who are awaiting their verdicts on 9 March.
Ali Hassan, a leader in the Green Eagles Masry ultras group, which has more than 2,000 members, also saw Brotherhood politics in the matter.
"[A few hundred] thousand votes in Port Said are sacrificed for the sake of the 18 million of Cairo," he said.
In the presidential elections' first round, Port Said voted for leftist candidate Hamdeen Sabbahi, and Morsy only came third. In the second round, it voted for Morsy's rival, Ahmed Shafiq.
"Morsy should know when he speaks to his clan that Port Said is not part of this clan, and that the grandchildren of the [tripartite] aggression today are being beaten by Egyptians," added Homos' bearded, elderly father.
In the 1950s, Port Said rose against a renewed occupation after former President Gamal Abdel Nasser had announced the nationalization of the Suez Canal, which was then a power play in the context of US-Soviet rivalry. France, Britain and Israel coordinated an attack on Egypt, with Port Said as a central target.
The attack and the resistance against it is the source of local national pride in Port Saidians' collective memory.
It is with bitterness that many of them today recall how Cairo only knows how to make jokes about Port Said, rather than share their remembrance of their struggle against the foreign invasion.
And if the history of national resistance is not enough to fend off the snobbery of the capital city, than the people of Port Said resort to the history of football.
They recall how Masry Club was founded as an expression of nationalism following the 1919 anti-occupation movement led by Saad Zaghloul. At the time, many foreign local communities residing in Port Said around the Suez Canal formed football clubs.
In reaction, Egyptian laborers working on the canal formed the club under the initiative of Moussa Effendi, who is said to be one of the first people to form a workers' union in a foreign freight company.
Ahly, on the other hand, "is the club of the government and capitalism," said Hassan.
He spoke resentfully of Ahly's dubious transactions of players, whereby they would try to steal Port Said's best to strengthen their team.
Ibrahim al-Masry, who shares the name of his club, illustrates the capital club's power play. He said he got several offers from Ahly to join, but refused them all. He explained how his club resents the hegemony of Ahly and the corruption in its ranks. "Ahly doesn't feel for the small clubs like us because they are not oppressed like us," he said, adding that if one match is not fair to them, "the whole world turns upside down."
In contemporary and revolutionary times, football has further become an expression of local politics in the face of failing regimes and states.
Hassan explained how the Green Eagles, established in 2007, as well as the other two main Masry ultras groups in Port Said, are organized groups that have been engaging with society by fighting thuggery and participating in protests with social demands. He recounted how the Green Eagles made a Facebook call to fight a group of 800 armed men that have been threatening the city, a battle that was fought by them in front of a silent security apparatus weakened since the 25 January revolution.
Similarly, the club and its fans base have been attracting a lot more youth in response to the recent events, although previously "the media appeal of Ahly had been attracting the youth," Masry said.
With an air of performativity, Masry declared, "It's over. I am no longer Egyptian. I rid myself of my citizenship."
Following that line, an activist interjected in the conversation, saying, "We will sell our cars and buy boats to cross the sea and get our stuff from Cyprus, and not from Cairo."
That line is also present among the mothers of the defendants. One of them, whose son has yet to see his fate in the second batch of verdicts, said amid the raging battles in Port Said's streets, "We fought the French, the British and the Israelis. Now we're fighting Egypt, the Ahly state."
This piece appears in Egypt Independent's weekly print edition.