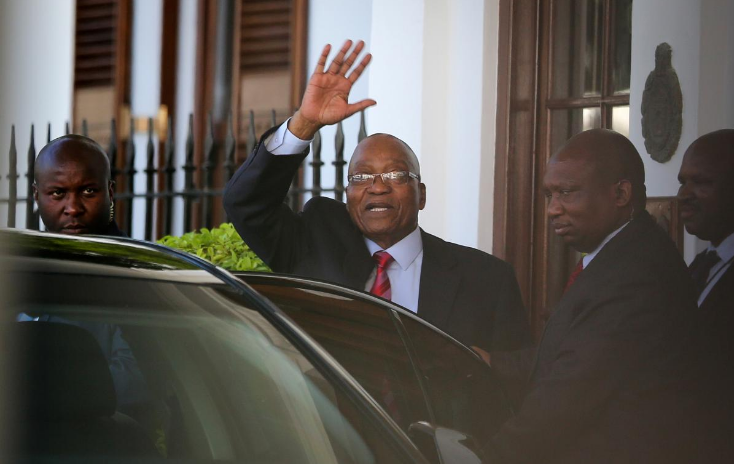 African National Congress (ANC) leader Cyril Ramaphosa said on Wednesday he is holding direct talks with Jacob Zuma over a transition of power, in the strongest indication to date the South African president will step down after years of scandal.
Zuma, in power since 2009 and beset by corruption allegations, has been in a weakened position since Deputy President Ramaphosa replaced him as ANC leader in December. Ramaphosa has talked of a transition of power since he took over as leader of the ANC.
The 75-year-old Zuma has been South Africa's most controversial president since the end of white-minority rule in 1994, overseeing a tumultuous nine years marked by economic decline and numerous allegations of corruption.
In a statement, Ramaphosa said he and Zuma began the talks on Tuesday night and hoped to conclude their discussions and report back to country "in coming days" – the first official confirmation of the talks between the two leaders.
Ramaphosa said the process was an opportunity to conclude the matter without causing discord in the country.
"We will be able to communicate further on President Zuma's position as President of the Republic once we have finalised all pertinent matters," Ramaphosa said.
"This is a challenging time for our country. Both President Zuma and myself are aware that our people want and deserve closure. The constructive process we have embarked on offers the greatest opportunity to conclude this matter without discord or division."
He said following progress made at the talks between him and Zuma, the ANC pushed back an urgent meeting scheduled for Wednesday evening of its national executive – which has the power to instruct Zuma to resign.
The delay increased speculation that a deal for Zuma to resign had been ironed out. Times Live, an online news service, quoted sources as saying Zuma would resign as soon as a list of preconditions had been finalised.
Ramaphosa said he was aware that the uncertainty surrounding Zuma's position was a cause for concern for many South Africans, but was confident of reaching an outcome to unite the country.
The former union leader has said he does not want to humiliate Zuma but has been lobbying behind the scenes for him to step down early.
Rooting out corruption
Zuma and Ramaphosa were seen taking part in cabinet committee meetings, according to pictures circulated by the official South African government account on Twitter.
The machinations within the ANC are an ironic recycling of history for Zuma, who engineered the ouster of former president Thabo Mbeki in 2008 shortly after taking over the helm of the ANC.
He has not said whether he will resign voluntarily before his second term as president ends mid next year.
The rand, which has tended to strengthen on signs that Zuma could step down early, was slightly weaker on Wednesday as traders awaited clarity on the political drama.
Ramaphosa has put the focus on rooting out corruption and revitalizing economic growth since defeating Zuma's preferred successor, Zuma's ex-wife Nkosazana Dlamini-Zuma, in the ANC leadership race.
Zuma still retains the support of a faction within the ANC but has seen several prominent party allies desert him recently.
He is still fighting nearly 800 counts of corruption over an arms deal from the late 1990s and his ties with the Gupta brothers, a family of wealthy Indian-born businessmen, are the subject of a judicial inquiry on grand-level corruption.
The Guptas and Zuma have denied any wrongdoing.
Zuma also faces another no-confidence vote against his leadership in parliament on February 22, brought by the ultra-left Economic Freedom Fighters party.