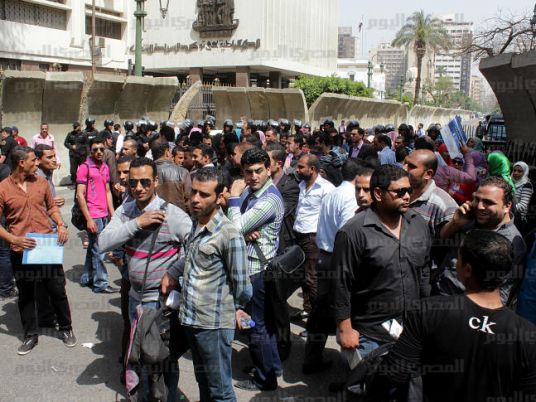 Workers from the Religious Endowments Ministry (MRE) protested outside Abdin Palace on Sunday, demanding permanent contracts and delayed dues dating back to 2011, but security dispersed the group during the night.
After the 2011 revolt, many workers said they received permanent work contracts, but after a while the MRE deeming them invalid. Accordingly, workers were prevented from receiving their salaries.
The employees organized several marches protesting the government's negligence, as some have been working there for more than 12 years, but were still not recognized as officially belonging to any government institution.
A protest was organized outside the Cabinet a few months ago, but it, too, was dispersed by security forces. Two employees were detained that day, but were released upon condition that the protest be moved to another location.
"After frequent attempts, some of us received our salaries, however 4,000 other workers from the Alexandria office have not. The workers were asked to sign a paper that makes their contracts official but were asked to give up all delayed salaries," said Sabry Shehata, the spokesperson for MRE workers in the Giza office.
"In the beginning, the workers refused to sign, saying this paper is "illegal", but after a period of time with no work and poor economic conditions, they accepted the offer and signed the paper in December 2014," said Shehata.
"We are not asking for a promotion or a raise, we just need a secure job, real contracts and the workers' backpay"
MRE workers are in charge of maintenance, cleaning and managing the registered mosques.
Last Week, the AlMahrousa Center for Socioeconomic Development (MCSD) reported that at least 385 labor strikes have taken place in the last three months (July, August, September).