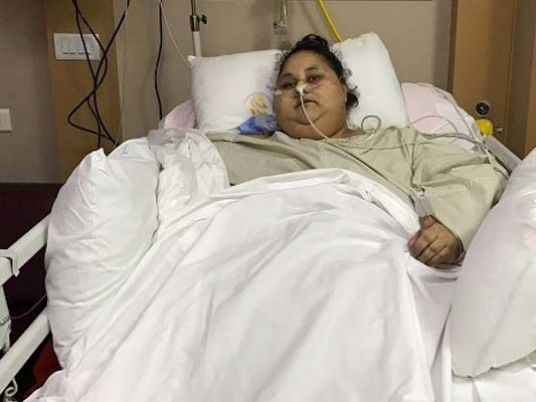 Eman Abd el-Aty, the 36-year-old Egyptian who until recently was believed to be the heaviest woman alive, weighing in at 500 kg, could be leaving Saifee Hospital in Mumbai for Burjeel hospital in Abu Dhabi, according to the CEO of VPS healthcare which runs Burjeel Hospital.
Eman's sister, Shaimaa, had shot a video saying that her sister is very sick and is not receiving adequate treatment at Saifee Hospital where she was admitted to undergo bariatric surgery. In the video, Shaimaa accused Doctor Muffazal Lakdawala of "telling lies" about her sister's weight loss surgery — allegations the hospital had constantly denied.
CEO of VPS healthcare, Shager Ghaffar, said on Wednesday that Shaimaa had reached out to him to discuss the possibility of transferring Eman to the hospital in Abu Dhabi after Saifee Hospital set Eman up to be discharged — a suggestion that he has welcomed, awaiting medical reports.
According to Shaimaa, Burjeel Hospital had previously shown interest in performing the bariatric surgery on Eman; however, Eman's family finally chose to proceed with Doctor Lakdawala in India.
The dispute between Shaimaa and the hospital's doctors started when Lakdawala, the surgeon leading Eman's case, said the patient had recovered from the surgery and is being prepared to be discharged and fly back to Egypt, but Shaimaa was unconvinced. She views Eman's case as still "unstable and delicate".
"My sister needs help. She is still in pain and gets seizures," Shaimaa told the Times of India. She had also claimed that the doctors had promised her Eman would be able to walk — a charge the team has denied.
A team from VPS Healthcare, which runs Burjeel Hospital, visited Saifee Hospital on Wednesday to see Eman's medical reports. Shaimaa told India Today that she is considering taking Eman to Abu Dhabi for further treatment due to the fact that 12 doctors from team treating Eman have resigned after the video she posted went viral on social media.
Lakdawala and Saifee Hospitla, who have been treating Eman for free, have maintained that they have treated Eman to the best of their knowledge, but also said that they cannot treat all of Eman's diseases.
"Our excellence is in bariatric and obesity. We have done our job and she is being discharged because she has shown miraculous recovery," said Huzefa Shehabi, COO of Saifee Hospital.
Shehabi told the Times of India on Monday that the hospital's medical opinion is that Eman now needs a series of rehabilitation services.
"As the rehab can be done anywhere, Eman can go back to Alexandria, but her sister is convinced that it's not going to be easy," Shehabi said.
Shaimaa thinks that Eman's health state is "unstable and delicate," as she still frequently falls into comas and suffers paralysis. Throughout the past few weeks, doctors and Eman's family have remained in a deadlock over her future course of treatment.
Eman suffered a stroke at the age of 11 and her weight meant she was unable to leave her home for 25 years.
She was flown in a special aircraft in January to Mumbai's Saifee Hospital where she underwent bariatric surgery in March by a team of doctors.