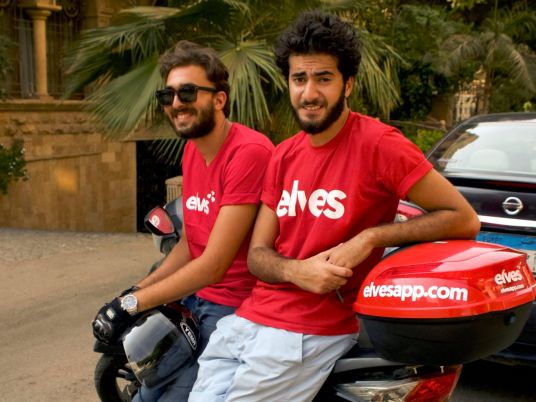 Running errands around Cairo's hustle and bustle can often end up being a challenge, but Karim Elsahy has found a way to make the ordeal less wearisome by bringing a real-life "personal little helper" to help out from the comfort of a chat window; he dubbed the concept, Elves.
Disrupting the e-commerce sector by introducing a real-life middleman to book flights, buy gifts, make dinner reservations, and even offer advice on what to wear for a first date, Elves pairs phone app users with assistants to search, purchase and deliver at a click of a chat button, either through Facebook messenger or the app itself.
Elves operate through live interactions via text; this allows users to engage in dialogue with an actual person. For example, an app user wants to buy a gift for his or her mother on Mother's Day, so the connected Elf will ask questions about the user's mother to better understand her likes and dislikes, and will then provide gift suggestions within the user's budget. Elves take care of everything from purchasing to wrapping and delivering the gift.
The brainchild of Egyptian serial entrepreneur Karim Elsahy, the Elves app first launched in the US in late 2015; it then moved to Egypt soon after in 2016 when Elsahy moved to Cairo. Elsahy realized that Elves is immensely needed in a city of 25 million where minimal information is utilized online, and completing basic tasks like refrigerator maintenance can end up taking a week or two.
"It's a difficult city to live in; it's crowded and busy, you need a person to help you out when running daily errands, unlike in the States, where we have alternatives. Take the holy month of Ramadan as an example: Egyptians spend hours buying groceries and standing in lines at supermarkets, but with Elves they won't need to waste all that time — an Elf can take care of buying the groceries " Elsahy told Egypt Independent.
Elsahy explained that currently every transaction is managed by a human, but adds that the system is starting to become a little bit more automated with the help of artificial intelligence. Elves is run by only 30 elves worldwide, currently overseeing a maximum of 25 chats at a time. By the end of the year, his goal is for bots to operate four times as many chats.
Elsahy mentioned that the top 10 percent of the app's active users are daily clients, whose requests varying from finding the right Pampers size to setting up a beach wedding featuring a violinist.
"The elves kill themselves to find the best solution for each and every client. All they care about is the user's satisfaction. We strive to continuously develop a platform where Elves around the world are able to assist people's needs," Elsahy said.
"It's a very unique and valuable proposition if you think about it, knowing that the person you are talking to has your back and isn't looking to simply make a profit," he added. Most of the Elves employed are Egyptian nationals, along with some expats too, Elsahy said.
Ranked sixth in Forbes' 20 Most Promising Egyptian Startups, Elves is currently bringing in around LE2 million a month exclusively from corporate partnerships with London Cab, Vodafone and Gourmet Egypt, which are the company's source of revenue. Elsahy explained that the fee for services is the exact amount demanded by the service provider, not by Elves.
Elves makes its revenues by taking a percentage from the service provider for each user that comes via the Elves app or through its Facebook messaging service, he explained.
Elves now targets English-speaking users between ages 25 and 40, but is aiming to expand beyond. The firm holds around 15,000 active users per month, eyeing to expand worldwide until the elves are able to communicate in the same language, with an understanding of the local culture and can work to satisfy people's needs globally.
"We are willing to enter into more partnerships with more large service providers to enhance our services. We are also looking forward to penetrating the food and e-commerce sectors," Elsahy added.