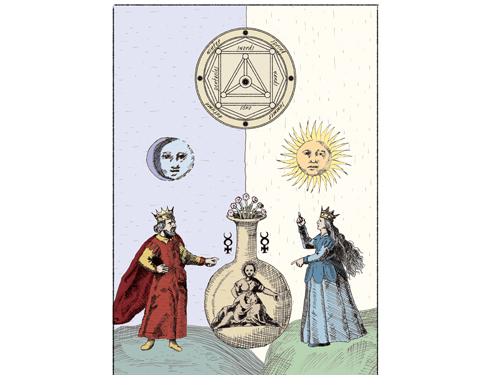 Amman Square's Tabasco has a long history. Born in the 1990s, the spot was always known for its good food, low tables and conversational atmosphere.
Just half a midan's turn away from Absolute, another 1990s bar with a dance-ier, more party-like feel, Tabasco served as the more intimate venue.
Many in their 30s would say that the years have been unkind to Cairo's nightlife. Few survivors remain, the Cairo Jazz Club being the strongest contender with Aubergine — merely a shadow of its old glory — and Absolute has closed, along with other 1990s nightspots like Pomodoro, Upstairs, Downstairs and Cheers.
Up until last February, Tabasco remained open as well, offering a hearty cheese fondue and a generous pouring of Chivas for the few who still remembered it was alive. Only nine months later, Cairo Jazz Club management is opening Alchemy, a restaurant and bar, in its place.
Tabasco's interior layout is small, and Alchemy hasn't changed much structurally. But with delicious artwork, gold-frame light fixtures suspended from the ceiling and gold theater masks on the wall, the polish has had an amazing effect.
The feel is whimsical — the tables have been elevated as has the energy of the space, with the decor and the clientele back in full force and curious about the new offering. The menu is an artwork in itself, describing the concept behind Alchemy and creatively grouping the kitchen's eclectic dishes on handmade paper.
From pumpkin goat cheese puree and chocolate chili fondue to "chicken crackers" and veal chops, the descriptions drool with deliciousness, and you'll be hard-pressed to make your pick without some serious thought.
The service opening night was pristine, despite a relatively full house, and the waiters seemed well-versed in the dishes and their components.
We opted for the truffle-infused wild mushroom risotto (LE69), which was very flavorful. The Cajun potatoes (LE40) were also deliciously spiced, and accompanied by a spicy version of guacamole, pesto and cream for dipping.
Wine is offered by the carafe as well as by the bottle, a nice option for a dinner for two. A few menu items need some tweaking, in particular the chicken soup.
The chicken crackers with pumpkin and goat cheese puree was an interesting mixture of flavors, with an unusually large serving of breaded chicken accompanied by the puree, topped with a tomato-based sauce.
Treat yourself to this new (re)opening in Dokki — dinner for two should be about LE400, with dessert.■
Alchemy; 8 Amman Square, Cairo
Tel: 02-3336-5583.

This piece was originally published in Egypt Independent's weekly print edition.