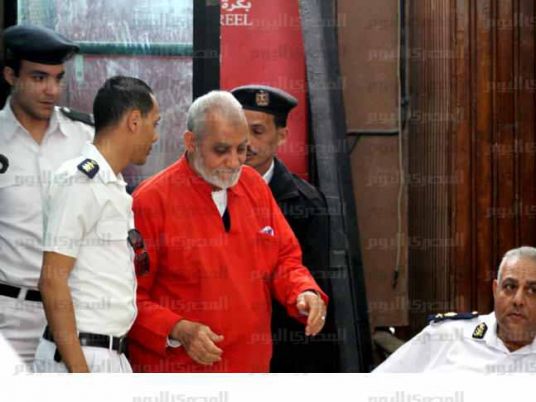 On Wednesday, the Cairo Criminal Court headed by Judge Mohamed Shereen Fahmy sentenced 11 Muslim Brotherhood leaders to life in prison over espionage charges associated with Hamas.
The ruling included Supreme Guide Mohamed Badie, his deputy Khairat al-Shater, Mohamed al-Katatny, Essam al-Erian, Mohamed al-Beltagy, Saad Esmat Mohamed al-Husseiny, Hazem Farouk, Mohy Hamed, Khaled Saad, Khalil Osama, and Ahmed Abdel Aaty.
In June 2015, Cairo Criminal Court handed death sentences to Shater, Beltagy, Abdel Aaty, Mahmoud Ezzat, Salah abdel Maqsoud, Ammar al-Banna, Ahmed Suleiman, Al-Hassan Khairat al-Shater, Sondos Assem Sayyed, Abu Bakr Hamdy, Ahmed Mohamed al-Hakim, Reda Fahmy Khalil, Mohamed ossama al-Aqeed, Hussein Mahmoud al-Qazzaz, Emad Eddin Shahin and Ibrahim Farouq al-Zayyan in the same case.
The court gave life sentences to the late President Mohamed Morsi, Badie, Katatny, Erian, Husseiny, Farouq, Essam al-Haddad, Mohie Hamed, Ayman Ali, Safwat Hegazy, Khaled Saad Hassanein, and others.
The court also sentenced to seven years in prison Ali Refaa al-Tahtawy, former chief of presidential staff, and his deputy Assaad Mohamed al-Sheikha.
The defendants challenged the rulings and a retrial was ordered by the Court of Cassation.
Edited translation from Al-Masry Al-Youm