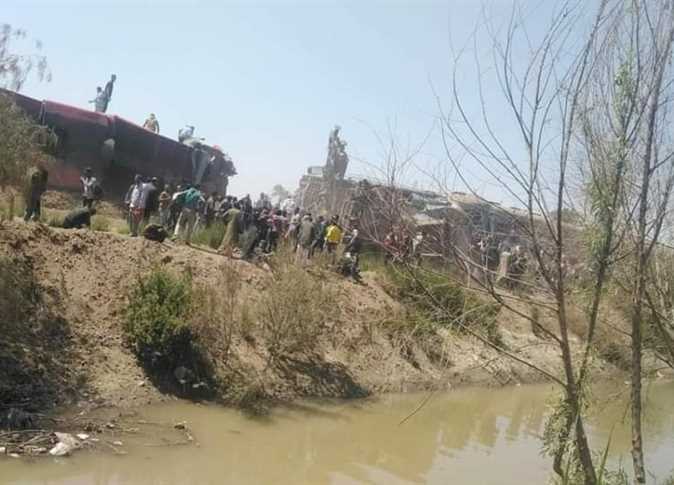 The Ministry of Health and Population announced that 11 people have been killed and 98 others were injured after a train derailed near the city of Toukh, Qalyubiya Governorate on Sunday afternoon.
A statement by the ministry said that immediately after the accident, 60 ambulances were rushed to the scene and transported the injured to the Benha Teaching Hospital, Qalioub Specialist Hospital, Benha University Hospital, and the Benha Health Insurance Hospital.
The statement added that all the casualties have received the necessary medical treatment, with most of the injuries being fractures, wounds, and abrasions.
Minister of Health and Population Hala Zayed personally visited Qalyubiya Governorate to check on the conditions of those injured in the accident.
Zayed offered sincere condolences to the families of the deceased and wished a speedy recovery for all the survivors.
During her visit, the minister ordered all the of the ministry's hospitals in Qalyubiya to provide the utmost care for the injured, while also readying Cairo hospitals to receive any cases in need of surgery – such as in the case of three victims who have been to the Nasser Institute Hospital for urgent surgery.
The statement added that 14 cases were discharged from hospitals, as they were suffering from minor injuries and first aid was provided to them and to ensure that their health condition improved before leaving the hospital.
Zayed is currently chairing the Central Emergency and Crisis Room at the Ministry's headquarters to follow up on the developments of the accident, the statement added, and to assess the status of the injured, the healthcare provided to them, and to follow up on the availability of all medical supplies.
The Egyptian National Railways authority announced that it is conducting an investigation to determine the causes of the accident
Informed sources said that Transport Minister Kamel al-Wazir rushed to the scene of the accident, which occurred at roughly 2:05 pm.
The Cairo-Mansoura train #949 had departed from Cairo at 1:20 pm and was scheduled to arrive in Mansoura at five pm.
Social media users shared a video of the scene of the accident, showing several injured bodies.
A security source stated that two coaches of the train overturned after its wheels derailed, and that security forces had sealed off the area.
Edited translation from Al-Masry Al-Youm