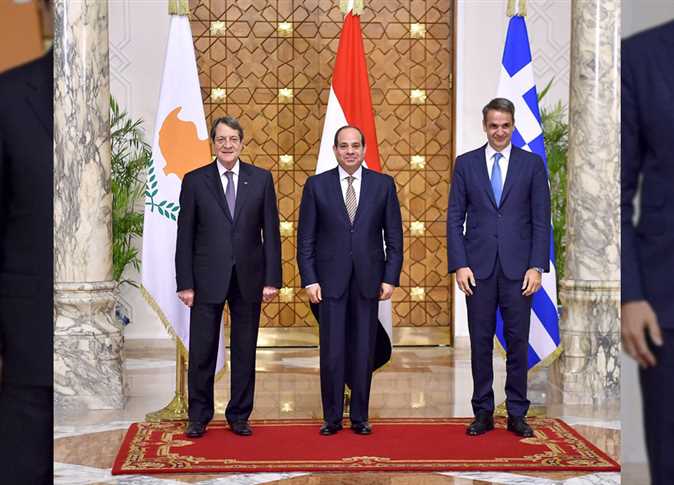 The electrical linkage agreement concluded between Egypt and Greece to establish an undersea cable, the first infrastructure of its kind in the Mediterranean, is critical to energy security in Europe, Greek Prime Minister Kyriakos Mitsotakis said Wednesday.

This came during a conversation with US economist Jeffrey Sachs, one of the world's leading experts on economic development, on the second day of the first Athens ESG and Climate Crisis Summit.
"The electricity produced in Egypt needs to find its way into the European grid," Mitsotakis said according to the "Kathimerini" Greek newspaper, and said that the project will move forward.
He also stressed the geopolitical importance of the agreement signed between Athens and Cairo last year regarding the allocation of a special economic zone in the eastern Mediterranean.
Mitsotakis said he hoped projects such as the undersea cable will receive European support, adding: "It is absolutely indispensable for the future of the European power grid."
Egypt's Electricity and Renewable Energy Mohamed Shaker signed a memorandum of cooperation with officials from Cyprus and Greece, on cross-border electrical linkage between the electricity distribution networks in the three countries.
Egypt's Immigration and Expatriate Affairs Minister Nabila Makram, also signed a memorandum of cooperation in the field of expatriate affairs with the Office of the Presidential Commissioner of the Republic of Cyprus and the Greek Foreign Ministry.
Mitsotakis expressed great happiness earlier at receiving President Abdel Fattah al-Sisi and the Cypriot president in the ninth tripartite summit between the three countries.
He added the signing of a cooperation agreement in electricity transmission aims to diversify energy sources, making Egypt a major supplier of electrical energy from solar energy, which will be extended to Europe.
In a joint press conference after the Egyptian-Greek-Cypriot summit, Mitsotakis said that there is close cooperation between the three countries in the energy field, with Egypt's position serving as an important energy hub in the eastern Mediterranean region.
Egypt plays a pivotal role in transferring energy to Europe, especially in light of the violent turmoil that occurring in the energy market, Mitsotakis said.
Greece has donated 250,000 doses of coronavirus vaccines to Egypt, pointing out that both countries cooperate in the field of long-term climate change as well as renewable energy sources.
Greece remains committed to resolutions of the UN and the Security Council regarding the Cypriot crisis, Mitsotakis added, stressing the importance of re-starting a dialogue and ensuring the signing of agreements under the framework of international law.