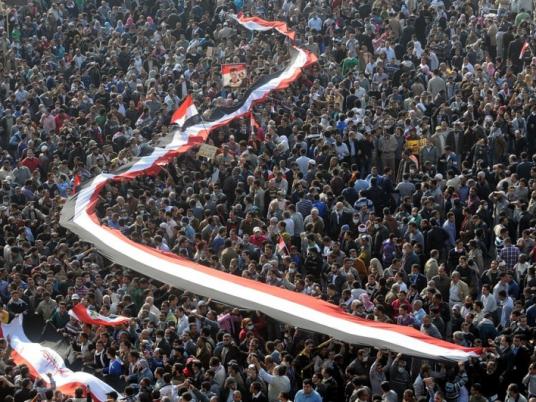 As sit-in protests continue in Tahrir Square and outside the cabinet building, some express fear that violence may break out ahead of Egypt's first post-Mubarak elections slated to begin on Monday. The wave of chaos and instability that swept the country last week, which brings to mind scenes from the 25 January revolution, has raised concerns over the timing of the parliamentary elections.
Sultan Zaki, a newspaper seller, will not cast his vote in the upcoming polls because he expects that the violence will take a different shape than in previous years.
"Parliamentary elections in 2010 witnessed bitter clashes despite a police presence. I am afraid the elections will turn bloody due to the security vacuum," Zaki says. "The military should postpone the polls a few weeks until the situation calms down in Tahrir."
Ashraf Mokhtar, a civil servant, voices the same concerns, saying that the lack of security poses a threat to public safety. "The military council fails to ensure security in normal circumstances, so how will it be capable of handling the electoral process?"
"There is no one left to fill the security gap now; especially after the police have withdrawn from the streets again," he says.
Zakariya Fahmy, however, believes that violence will take place regardless of whether the elections are held as planned or pushed back. "Evacuating the square of protesters won't make a difference. We have been suffering from instability during the last 10 months, not only the past few days," he says.
Fahmy, a pharmacist who participated in the "Last Chance Friday" protest last week, says that the only solution to the current impasse is to take effective moves towards democracy that guarantee the end of the current chaos.
Some believe that the only way to end the current state of insecurity is to hold the elections now, as scheduled.
"Holding elections as scheduled is a crucial step on the road to ending the transitional stage and handing over power from Egypt's ruling military to a civilian government," says Mohamed Azz al-Arab, a political researcher at Al-Ahram Center for Political and Strategic Studies.
Azz al-Arab explains that postponing the elections will open the door for the military council to stay in power without putting in place a definite timeframe, a key demand of the Tahrir protesters.
"We cannot keep on calling for accelerating the elections timetable and then demand its delay, which will eventually obstruct the democracy process," says Azz al-Arab.
Mohamed Abdel Fattah, a supermarket owner, expects violence during the elections because the former ruling National Democratic Party's (NDP) will be running. "They will definitely adopt their usual dirty policies such as hired thugs and vote-buying. I think this will provoke serious clashes with Muslim Brotherhood candidates," he says.
Abdel Fattah, however, insists on going to cast his vote. "The revolution's impact won't be really evaluated if everyone hides in his own house in fear of violence."