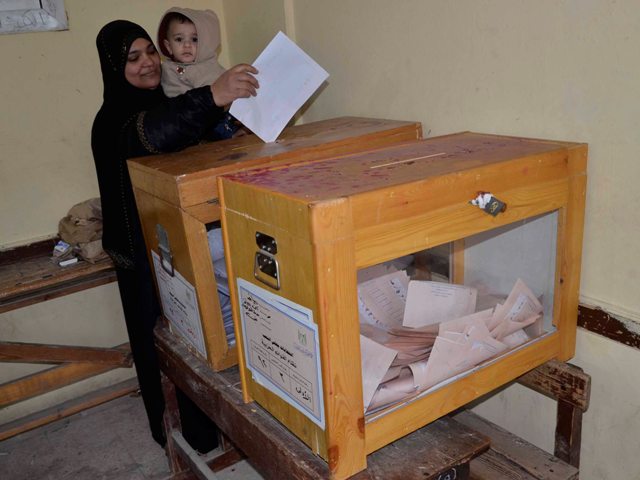 The High Election Commission (HEC) has decided to cut polling station employees by 50 percent because the previous large number was unnecessary, the head of its technical office, Yousry Abdel Karim, said on Monday.
Abdel Karim said that the run-offs for the first phase of the parliaqmentary elections have already started, denying any delay in opening polling stations. He stressed that all documentations, employees, and supervising judges were present on the officially set timing
Employees are protesting in Assiut and Cairo after being excluded from managing the run-offs.
Nearly 100 teachers and Holding Company for Water and Wastewater employees, who worked on the first round of elections, reported to the municipal council in Amiriya, Cairo. But officials told them they had no information and advised them to check at the Amiriya police station. There, police officials told them they had enough employees for the second round of elections, which prompted them to protest outside the station.
Five hundred employees at the Ministry of Islamic Endowments and Cairo Governorate also protested in downtown after colleagues were excluded in Cairo's seventh constituency.
In Assiut, hundreds of polling station employees also demonstrated outside the governorate headquarters due to being excluded. Governor Sayyid al-Borai told Al-Masry Al-Youm that the High Election Commission had demanded that the numbers of people working at polling stations be cut by 50 percent.
Meanwhile dozens of employees at five polling stations in Mazalty village in Fayoum went on strike over low bonuses they were paid during the first round of parliamentary polls.
Those on strike said they received only LE300 for their work on Monday and Tuesday.
The employees said they filed many complaints to Fayoum's governor and were promised an increase, but they received the same amount on the second day and decided to strike at the beginning of the second round.
In other news, unused ballot papers were stolen from a polling station in Cairo's Salam district, Egypt's state-run news agency MENA reported Monday.
People broke into the car of the judge supervising the parliamentary election run-offs at a polling station in Abu Bakr al-Seddeeq School.
The head of the High Elections Commission (HEC), Abdel Moez Ibrahim, immediately ordered the delivery of more ballot papers to the polling station, MENA said. Voting started when the ballots arrived.
Independent newspaper Youm7's website reported campaigning outside polling stations during the run-offs in Alexandria, which violates electoral regulations.
Several supporters of the Salafi-led Nour Party distributed flyers to voters at a polling station in the Laban area of Alexandria, but stopped when the military asked them to leave.
The HEC recorded violations that took place during the first phase of the parliamentary elections last Monday and Tuesday, but said they will not affect the final results or the election's integrity.
The commission promised to deal with campaining outside polling stations, delayed supervising judges, and polling stations that are not suitable for voting.