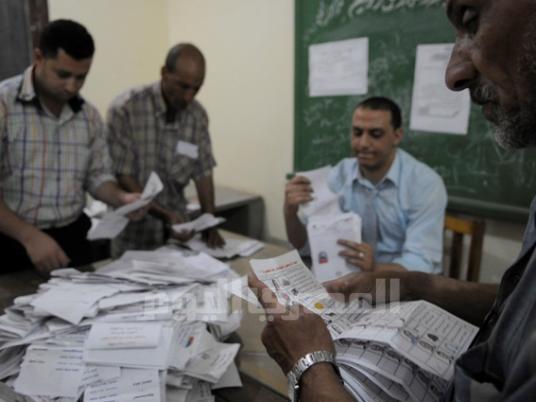 Presidential Elections Commission Secretary General Hatem Bagato said Friday that the commission has recounted ballots from four ballot boxes in Assiut Governorate in the presence of the candidates' representatives.
Bagato refused to tell Al-Masry Al-Youm how many ballots were recounted and if they affected the results.
He added that the elections commission is still considering appeals and has not set a deadline for the announcement of the final result, saying this would depend on when they were finished investigating the appeals.
"God willing, not after Sunday," he added.
Another commission member said they would announce the results immediately after they finish following up on the appeals, whether it be Saturday or Sunday.
A senior judicial source who is close to the elections commission said that confusion has prevailed in the commission over the last few days because the race was so close.
The source, who spoke on condition of anonymity, said, "This is a major reason the appeals have been so heavily scrutinized, as they very well may affect the results."
The source speculated that the recount in Assiut would not change the outcome of the election, saying there were only around 10,000 ballots in the recount.
Muslim Brotherhood attorney Abdel Moneim Abdel Maqsoud said the commission asked a Brotherhood representative to attend the recount, which was carried out after an appeal from Ahmed Shafiq's campaign.
Edited translation from Al-Masry Al-Youm