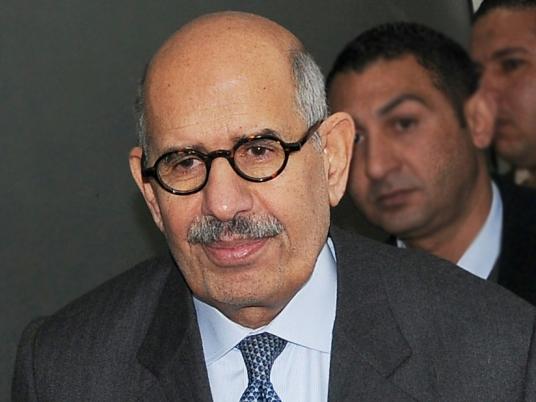 Former Egyptian vice president Mohamed ElBaradei has provoked harsh criticisms by the government's defenders in the media over statements that slammed the current regime for handling the transitional period that followed the ouster of former president Mohamed Morsy.
ElBaradei, a Nobel peace prize laureate, told Austrian newspaper Die Presse that Morsy should have held early presidential elections in response to the 2013 protests that led to his ouster by the Armed Forces, adding that Morsy, now detained pending trial over multiple charges of murder and espionage,"must run again" for presidency should he have the chance.
He, however, noted that "Morsy was unable to rule the country [properly]," adding that is wrong of him to reject the proposal of early elections.
ElBaradei was vice president in the transitional government that ousted Morsy in July 2013, his controversial resignation came as security embarked on a bloody dispersal of major protests in Rabaa al-Adaweya and Nahda squares demanding Morsy's reinstatement. "In an atmosphere of violence, there is no role for a guy like me," he said, noting his decision to return to Vienna.
ElBaradei told Die Presse that given the existent atmosphere of polarization, Islamist political groups should not be marginalized once again or tarnished all the time, arguing that a moderate society should include Islamists or otherwise deal with violence and extremism. He said that Tunisia has set a good example to be followed in engaging Islamists.
His statements drew harsh attacks from private media that had led a relentless campaign calling for Morsy's departure and supporting President al-Sisi's government.
"ElBaradei is feeding the bloodshed, while security forces pay the price for that," Ahmed Moussa from Sada el-Balad satellite channel, said, addressing ElBaradei. "Have some patriotism, people are dying while you are trying to undermine the state and its bodies," Moussa said, accusing ElBaradei's loyalists of attempting to "induce chaos" in Egypt.
Ahmed al-Meslimany, a media host and a former media adviser to the interim presidency, said Elbaradei "had not added anything new," suggesting, during his show on al-Hayat satellite channel on Monday that ElBaradei failed to provide a vision of Egypt's future through his interview.
Riham al-Sahly, another media interviewer on al-Tahrir satellite channel, accused ElBaradei of forsaking his fans in more than one occasion. " Whenever there was a political trend that did not appeal to you, you left the country and came back again".
Speaking of his vice-presidency, ElBaradei told the newspaper he was eager to fend off a civil war as the nation was divided and millions took to the streets. "The situation should have been resolved through political elections, but the Brotherhood sit-in was forcibly dispersed though there were good intentions to resolve the conflict peacefully."
ElBaradei said President Abdel Fattah al-Sisi, then defense minister, had been in the picture throughout the crisis, and had voiced his desire for a political solution. "What happened later? I do not know," ElBaradei said.
ElBaradei revealed he had received several death threats since his resignation.
Asked whether the situation in Egypt has returned to post-2011, ElBaradei replied, "This is not the end of the story," noting that it had take Europe three centuries of bloody wars to end religious and ethnic strife. "The young generation that had made the revolution in Tahrir is in a state of despair now," ElBaradei said, adding that there are currently repressive laws and unjustified detentions under the incumbent government.
He, however, ruled out a full comeback by members of the old Mubarak regime, stressing that the youth will come to power within 20 years but have to exhibit preparedness.
Edited translation from Al-Masry Al-Youm