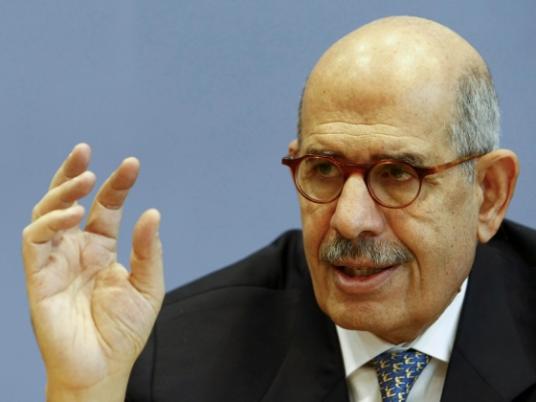 Co-founder of the Constitution Party Mohamed ElBaradei has said the party is not seeking to compete with other parties but rather to unite.
During a 100-member party committee conference on Tuesday, ElBaradei said several parties will join the Constitution Party and that together they will take part in the upcoming parliamentary elections.
ElBaradei said every member in the party should be an example for the rest of society and that the party should reach out to workers and farmers.
He said that work has moved from Tahrir Square — which he called a tool for pressure — to policy, and the Constitution Party seeks to provide Egyptians with bread and social justice.
In April, ElBaradei declared that a new political party, aiming to be a nucleus for a coalition of various civil forces in order to bring together all Egyptians, was being established. The party was first named the People's Revolution Party, but it had to be changed after another existing party had the same name.
Islamists, led by the Brotherhood's Freedom and Justice Party and the Salafi-led Nour Party, won the majority of seats in the first elected parliament after the January 2011 uprising, before it was dissolved on 14 June after the Supreme Constitutional Court declared the Parliamentary Elections Law unconstitutional.
After the uprising, ElBaradei's name circulated as a presidential hopeful. But in February, he announced his withdrawal from the presidential race due to the absence of a democratic atmosphere in which to hold elections.
Edited translation from MENA