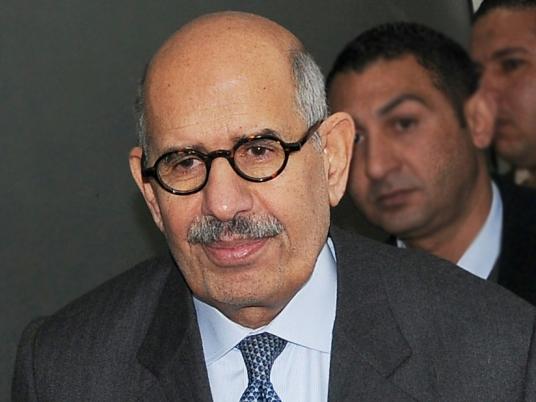 Dostour Party founder and National Salvation Front leader Mohamed ElBaradei warned that despite previous assurances, the NSF would not necessarily participate in the upcoming parliamentary elections without clear guarantees for their integrity — otherwise, they would be a mere "fake democratic circus," he said on Monday.
Speaking at a news conference with the NSF and the Free Egyptians Party, ElBaradei said: "We will not take part in elections without a response to our demands of appointing an independent prosecutor general and forming an unbiased coalition government."
ElBaradei rejected the Cabinet reshuffle that government officials said would take place next week, unless it would include replacing Prime Minister Hesham Qandil and the ministers of justice, the interior, youth and food supply.
"We will start a national dialogue to amend the distorted Constitution and achieve interim justice," ElBaradei continued.
"No civil forces that believe in democracy would allow this massacre of the judiciary to happen by allowing the Shura Council to pass the judicial authority law," he added.
NSF spokesperson Waheed Abdel Meguid added that the Front would send a delegation of its members to attend the judges' general assembly on Monday in order to express their support for the judiciary.
Popular Current head Hamdeen Sabbahi said, "Our stance toward election hasn't changed. We will boycott unless the necessary conditions for [electoral] integrity — including an impartial Cabinet, public prosecutor and appropriate procedures — are achieved."
Edited translation from Al-Masry Al-Youm