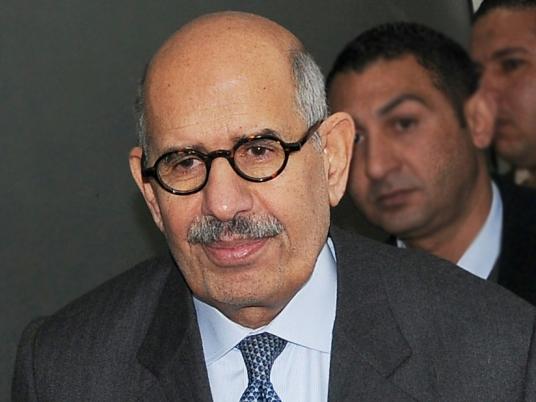 Constitution Party founder Mohamed ElBaradei's media office on Monday has denied a report published today in the Saudi newspaper al-Sharq, which sites ElBaradei as saying that he has not received any offers to head Presient Mohamed Morsy's government nor will he accept any ministerial posts.
In a statement Monday, the office said that "false and inaccurate information is being circulated lately," and demanded accuracy regarding information published about ElBaradei. The office confirmed that it is the only source of information regarding ElBaradei, in addition to his official Facebook and Twitter.
Al-Sharq had quoted ElBaradei as saying that he would not accept a government position but that he seeks to be an effective councilor during this foundational period of building a new Egyptian state.
The newly formed Constitution Party said on its Facebook page that it has received 80,000 signatures for the party, while it only needs 5,000 to be legally recognized.
The party said that the signatures that it will submit to the Court of Cassation's Party Affairs Committee will be chosen according to who submitted his or her signature first, while also ensuring that all governorates are represented on the signature list according to their relative size and population, as stipulated by the political parties law.
The Constitution Party said it has delegates in 15 countries and added that Egyptians abroad will play a key role in the party.
Edited translation from Al-Masry Al-Youm