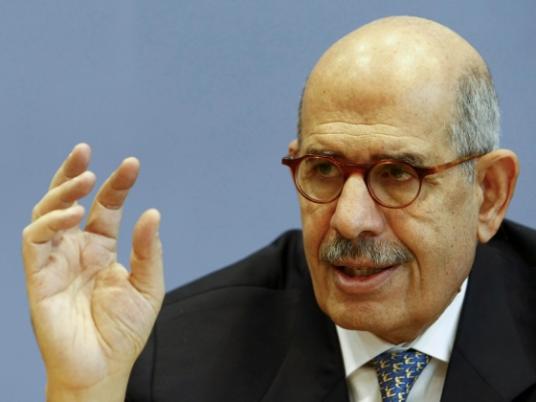 Former Vice President Mohamed ElBaradei said he is "still convinced" Egypt's revolution will succeed.
ElBaradei, who left Egypt in the wake of violent dispersals of two pro-Muslim Brotherhood sit-ins in Cairo and Giza, claimed he was "convinced that the revolution started by the Egyptian youth will ultimately succeed in achieving its goals, which they aspire to, in spite of the obstacles."
Aswat Masriya, a Reuters-affiliated news website, reported on Thursday that ElBaradei said "the Egyptian people in all walks of life realize that the new Egypt will be built onlt on a society governed by humanitarian values and enlightened minds," during a telephone conversation with Dostour Party vice-chief, Shokry Fouad.
ElBaradei explained his role in Egypt at this stage is "to work away from any formal framework."
He noted that he currently has "many international engagements related to issues of good governance, human rights and the challenges of energy and development."
Edited translation from Al-Masry Al-Youm