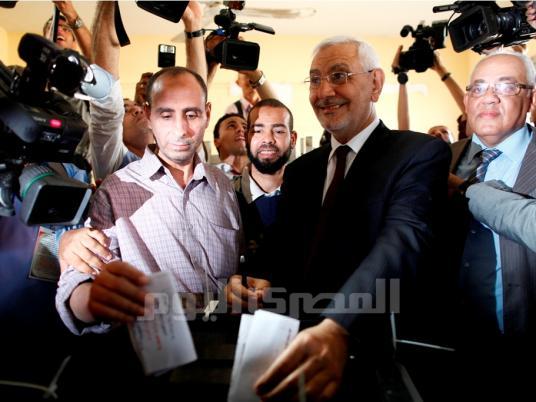 Talk of political alliances ahead of upcoming parliamentary elections increased yesterday after a meeting that included Strong Egypt Party head Abdel Moneim Abouel Fotouh, Constitution Party head Mohamed ElBaradei and Egypt Party head Amr Khaled.
During the meeting, held at Abouel Fotouh's home, the three discussed potentially forming yet another electoral alliance to compete in the elections, and agreed to form a committee to manage the coalition during elections.
ElBaradei stressed during the meeting that any alliance must fall within the framework of the National Salvation Front, which has become the default umbrella group for opposition forces.
Other sources said that Khaled will coordinate with a number of parties within the front and other public figures to broker an agreement on how to contest the elections.
The parties also agreed to keep news of the coalition under wraps until the Constitution Party discusses it with its members who are involved with the front.
During the meeting, which lasted for two and a half hours, ElBaradei said that the new alliance would also welcome other parties.
ElBaradei said on Sunday, "The next parliamentary elections are an important step in the political process, and therefore we strive to create a suitable political and legal climate, in which we can participate in the elections with our full energy, in order to gain the largest number of seats in Parliament."
ElBaradei added that electoral success would be best achieved, "in the context of a broad coalition of revolutionary and democratic forces that agree with us in the work in order to achieve the goals of the revolution."
The Cabinet will submit the parliamentary elections draft law to the Shura Council next week. After discussing the bill, the Shura Council in turn will submit it to the Supreme Constitutional Court for review.
The Shura Council is currently working on proposals for a new bill.
The new government is expected to be formed by the elected parliamentary majority.
Edited translation from Al-Masry Al-Youm