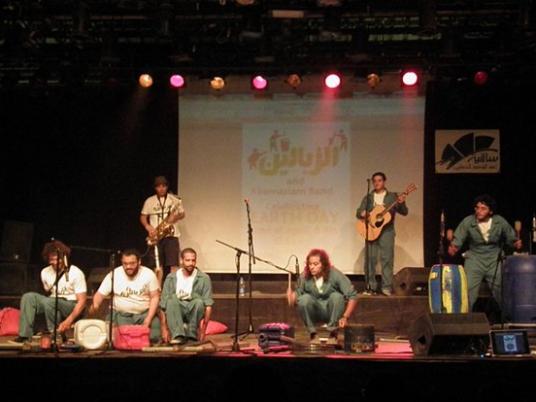 To celebrate Earth Day, the band El Zabaleen performed their annual show Sunday night at El Sawy Culture Wheel.
El Zabaleen is a percussion-based band that uses garbage and discarded petrol tanks as their main instruments; some guitar, saxophone and engaging vocals are also incorporated to carry the banging drums along from one song to the next. The result is loud, tribal and fun.
The band initially formed two years ago for an Earth Day concert in 2010, but band member Noor Ayman happily admits that the yearly event has turned into something much bigger than just the band's concert.
To start, Sunday evening opened with an acoustic set from the AboMariam band, with features vocalist Mariam Ali and guitarist Mohamed Aboulenein. They played a handful of acoustic tracks that appeared to have been tailored to the evening as references to oxygen and preserving the Earth were often made.
El Zabaleen then followed, dressed in green and white waste collectors' uniforms.
Interestingly, to punctuate El Zabaleen's performance, many environmental NGOs — including Nahdet al-Mahroussa's "Green Arm" and 350.org — also took part in the event, and gave short presentations and talks concerning their views and causes in between the band's pounding songs. Often the band would add backing music, too.
The result was a wonderful evening with a huge turnout that jelled really well and seemed to engage the audience in the causes.
After the first song, Mahmoud Wafik from Green Arm asked the audience, "Who among you drives a car in Egypt?" to which most everyone raised their hand. "But who among you strives to only drive in a car that has more than one person in it?" — after which most hands dropped.
Wafik used this example to discuss Green Arm's two latest programs. One is their outreach program, which aims to create awareness about carpooling and seeking alternative transport. The other is their think tank initiative, which aims to produce a single, comprehensive research paper that encapsulates Egypt's biggest environmental issues, and can hence be used to approach policymakers with.
Wafik was barely finished before El Zabaleen again began pounding away, bringing some audience members to the front to dance.
After a couple more songs, Mindy Baha Eddin from the Nature Conservation Egypt NGO called for the audience to join their latest cause and help put pressure on the government to stop the current destruction of ancient rocks and graffiti in Upper Egypt.
"This is cultural heritage that needs to be saved urgently," she says. But Baha Eddin stressed an important point: "It's easy to set up an online NGO, but being a real one that actually affects things is very different, and this can only be achieved when people get behind the cause."
A few songs later, the Nawaya NGO demonstrated on stage how to create "seed balls," which are fertile balls of seeds [compost, water, clay, seeds] that can be tossed into any open space with soil and will soon grow.
"We must reclaim our public space by growing plants and trees, as much as we can!" said Sarah al-Sayed, who then proceeded to start throwing the balls at people in the audience — semi-gently — as the El Zabaleen band started up again.
Other NGOs in attendance and speaking were: E-Cycle, Ein al-Beaa, AUC's Green Hands and Schaduf.
At the end of the evening, El Zabaleen handed out cotton and linen bags, encouraging audience members to use fewer plastic bags when shopping.
"I'm proud of what the event has become, and I hope that momentum builds with each year and we can continue to create more awareness and reach a bigger audience," says Noor Ayman.