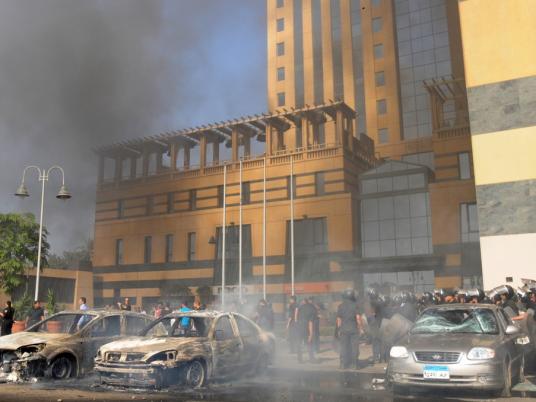 The Egyptian Initiative for Personal Rights (EIPR) has accused the police officer who shot and killed a man in the violent events at the Nile City Towers earlier in the month of premeditated murder.
The violence broke out on 2 August when Amr al-Bunni was killed by police officers stationed at the Nile City Towers after being refused pay for temporary security work he did at the property, witnesses from the nearby Ramlet Bulaq slum told Egypt Independent. In a previous interview, a Ramlet Bulaq resident mentioned that Bunni had stopped working for the towers after falling sick, but was denied payment. He previously attempted to address the head of the security department at Nile City, but was reportedly assaulted by guards when he did.
In its report on the results of a fact-finding mission sent to ​​Ramlet Bulaq, the EIPR wrote: "All testimonies confirm that the police officer first shot the victim in the foot, something which was enough to ward off the danger if any had existed. The officer, however, fired another shot in his back that killed him, which indicates a murder. The Department of Forensic Medicine has not issued its report on the death so far."
According to the statement, a team of researchers at the EIPR has documented a number of violations suffered by the residents of Ramlet Bulaq, including murder, excessive use of firearms and tear gas, violent raids on homes that destroy their contents and terrorize their residents, and indiscriminate arrest campaigns, as well as the exposure of those arrested, including children, to torture while in detention."
EIPR Director Hossam Bahgat said that "the violations we have documented over the past few days reveal events that completely contradict with the coverage of most media, and require immediate investigation with the police officers responsible for them, bringing those involved to prosecution, and compensating victims who have been portrayed in the media as perpetrators and aggressors."
"Witnesses agreed that Amr al-Bunni was not in possession of any weapons, and that he went to the hotel to collect his monthly salary as he used to do at the beginning of each month, since he worked within a team that has protected the hotel since the collapse of the police on 28 January 2011. Tourist police and hotel security, however, stopped him and shot him."
The EIPR issued another report on Thursday indicating an increase in the rate of police abuse over the last seven months, a period presided over by former Interior Minister Mohamed Ibrahim until Prime Minister Hesham Qandil swore in his new Cabinet earlier this month.
The report says police have failed to perform their mission of maintaining security and protecting people on many occasions, especially during the football violence in Port Said, which left more than 70 people dead in February 2012.
Edited translation from Al-Masry Al-Youm