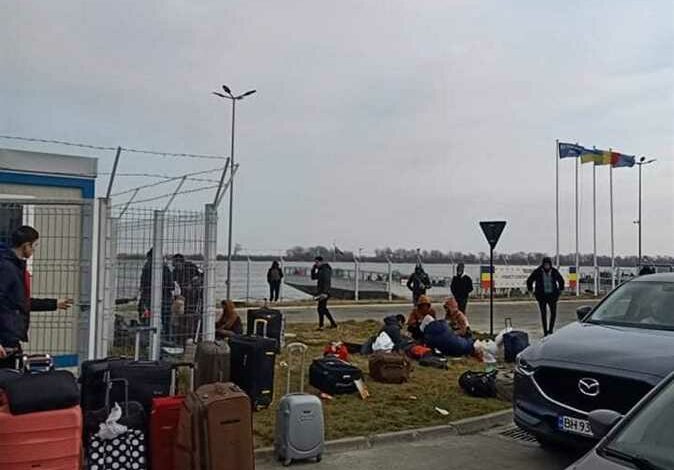 Eighty percent of Egyptian students in Ukraine have left the country, while a small percentage of students who want to continue staying in Ukraine to complete their studies remained there, Nabila Makram, Minister of Immigration and Egyptian Expatriates Affairs, said.
Egyptian embassies in Ukraine's neighboring countries keep receiving Egyptian students who have fled Ukraine, she added.
She added that private universities announced the specializations available for returnee students through e-portals and an academic placement test for those who study human medicine, dentistry, pharmacy and engineering.
All returnee Egyptian students from Ukraine can apply starting Sunday, at the Ministry of Immigration's headquarters, for enrollment at Egyptian universities, Adel Abdel Ghaffar, a spokesperson for the Ministry of Higher Education, said.
They must have required documents, such as a passport, to prove that they have been in Ukraine before February 24, he added.
Applications will continue for returnee students for two weeks.
Air Cairo, affiliated with the Civil Aviation Ministry, announced on March 5, that a flight of an Airbus A320, carrying 175 Egyptian students, and six from the Red Crescent and quarantine teamwas heading to Cairo Airport to return the Egyptian students who are in Romania to the homeland.
Dozens of families came to Cairo International airport to greet the returnees, relieved at their safety amidst the escalating crisis.
Earlier on February 26, the Egyptian community in Romania announced the arrival of 23 Egyptian students studying in Ukraine to the Romanian borders, at dawn on Saturday.
The students waited for several hours at the border, until they were allowed to enter and moved to the city of Cluj-Napoca to rest until they move from the capital Bucharest back to Egypt on a plane taking off at three am.
Russian President Vladimir Putin announced on Thursday February 24 the start of a large-scale military operation in the Donbas region of Ukraine.
Makram urged Egyptians in Ukraine to abide by the places they are staying in and not to leave, especially in the areas seeing heavy clashes.
Egyptians who are able to leave towards Romania and Poland should inform the Egyptian embassy in Kiev first, and communicate immediately with the Egyptian embassies in the two countries, until the relevant authorities there are addressed, she added.