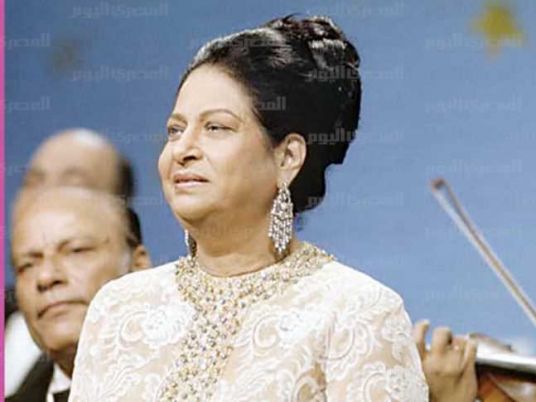 Egypt's legendary musical icon Umm Kulthum will be back on stage 45 years after her death, with a hologram of the iconic singer set to perform at the Cairo Opera House on March 6.
The concert has been organized by the National Culture Center.
Hologram concerts use virtual technology to construct three-dimensional images from the diffraction of light, making for a lifelike picture.
Two prominent Egyptian singers – Mai Farouk and Riham Abdel Hakim – are set to impersonate Umm Kulthum as Maestro Mostafa Helmy conducts the concert, which is directed by Gihan Morsy.
Egypt's Minister of Culture Ines Abdel-Dayem has highlighted the role of these highly advanced techniques in preserving Egyptian heritage. She further justified the choice Umm Kulthum for the concert, saying that the iconic singer still lives in the hearts of people across the Arab world.
For his part, Head of Cairo Opera House Magdy Saber commented that the eagerly-awaited hologram concert represents a "remarkable" addition to the house's schedule.
The upcoming concert is not the first of its kind in Egypt.
In April 2019, a hologram of legendary Egyptian singer Abdel Halim Hafez performed in Manara Hall in New Cairo alongside famed Lebanese singer Carol Samaha in the first hologram concert in Egypt. Titled "Helm" (Dream), the concert was directed by George Kalta, accompanied by a live orchestra of almost 45 musicians, according to Masrawy.
Hologram concerts of the iconic Umm Kulthum were previously held in the UAE as well as Saudi Arabia, with Dubai Opera House putting on a concert featuring a hologram of the Egyptian legend just nine months after her first ever hologram concert in Saudi Arabia's Tatora Festival.
Attended by a group of ambassadors and officials coming from different countries across the world, the concert in Saudi Arabia featured a hologram of Umm Kalthum in her iconic diamond jewelry and sporting a classy evening gown. The performance was accompanied by an orchestra of 20 musicians.
"It was exactly like the good old days," software engineer Peter Wilson told the Arab Weekly after the festival.
He added that the hologram technology dazzled attendees and allowed them to enter something of a time machine, sending them back to the classical Arabic music of the mid-twentieth century.
Umm Kulthum's greatest hits include Alf Leila Wa Leila (1969) and Enta Omri (1964). The two songs were performed in the UAE and Saudi concerts.
The beloved singer, one of the highest selling Middle Eastern musicians of all time, represents one of the most revered cultural icons of the 20th century and is known around the world for her extraordinary vocals, having been dubbed "kawkab al-sharq," or star of the east.