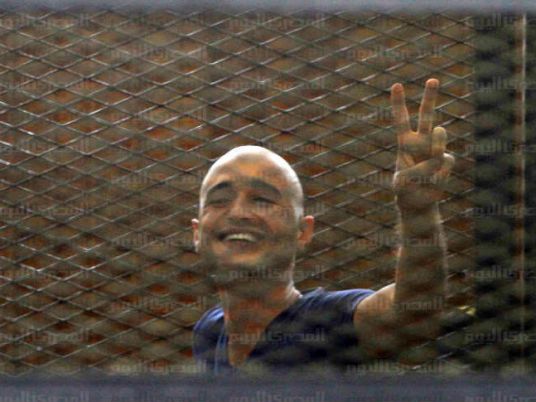 Egypt's Court of Cassation on Saturday turned down an appeal by activist Ahmed Douma, and upheld an earlier ruling sentencing him to 15 years in prison with a fine of six million LE.
The Cairo Criminal Court in January 2019 convicted Douma, who was a prominent figure among activist groups that ousted former Hosni Mubarak and campaigned against his military successors.
He had been accused of multiple charges since, particularly regarding a case popularized in the media as "The Cabinet Clashes."
This incident dates back to December 16, 2011, when several activists declared a sit-in outside the cabinet building to protest the appointment of Kamal al-Ganzouri as prime minister.
It ended in bloody rioting that killed 18 people and injured 1,917.
Ganzouri, who previously served as prime minister during the Mubarak era, had been appointed by the Supreme Council of the Armed Forces.
The protesters thus demanded that the SCAF immediately transfer power to a civilian body.
Around 269 suspects were handed various charges, including resisting authority, arson, theft, breaking into and damaging government buildings and institutions, damaging private and public property, hindering the work of public facilities, and possessing bladed weapons and Molotov cocktails.
Other defendants were accused of possessing and taking drugs, practicing medicine without a license, attempting to break into the Interior Ministry to burn it, damaging and burning vehicles of the Health Ministry and the General Authority for Roads, Bridges and Land Transport, as well as private cars on a street close to the cabinet headquarters.
The indictment added that the Institut d'Egypte, the cabinet headquarters, the People's Assembly and Shura Council, and the General Authority for Roads, Bridges and Land Transport building were attacked, stormed and partly burned.