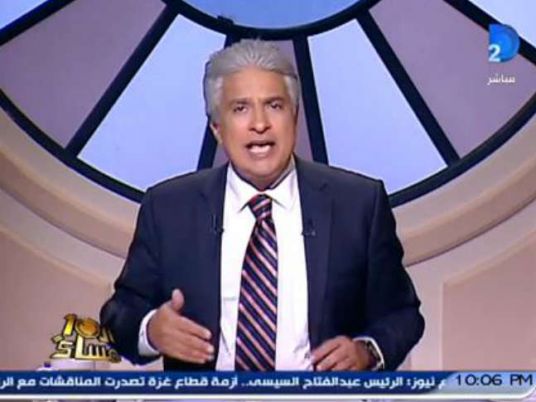 State TV in Egypt mourned the veteran journalist and TV host Wael el-Ebrashy, who passed away on Sunday evening at the age of 58.
Ebrashy was presenter of "al-tasea" (the Ninth) show on Channel One of the state TV, and had subsequently stopped presenting the program over a year ago, due to his fight with coronavirus.
Ebrashy's last phone-iEbrashy is considered one of the most famous media professionals born on October 26, 1963 in Dakahlia. He worked at the beginning of his life at the Rose al-Youssef, then the editor-in-chief of Sawt al-Umma newspaper. He presented al-Hakeka (the reality) and al-Ashera (the tenth) shows on Dream Channel, before moving to the state television
His last interview with the media was with TV host Najwa Ibrahim on the "Ninth" show nearly a year ago, in which he said, "God willing, we will overcome this ordeal, and we will get back to work again, God willing."
He said that he felt symptoms of a cold, so he underwent test which proved positive with coronavirus, adding: "We will defeat coronavirus, God willing, I treat the disease as a grant. It is true that the disease keeps me away from my job, and this is very difficult."
Ebrashy had contracted the virus, at the end of December 2020, and was subjected to home isolation immediately, while following the treatment protocol, until his health condition deteriorated in a few days. Then he decided to go to Zayed Specialized Hospital to receive the necessary treatment, especially since his lung witnessed significant deterioration.
The United Media Services Company, the National Media Authority, and many media professionals and artists mourned Ebrashy.