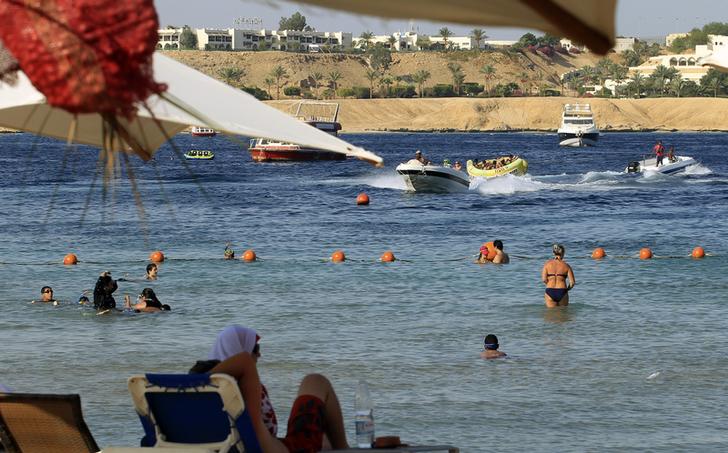 Egypt's South Sinai hotels are preparing for the return of tourists following the Eid al-Fitr holiday at the end of the month of Ramadan.
The hotels plan to uphold strict health standards in order to prevent the spread of coronavirus among guests.
Egypt's Chamber of Hotels in South Sinai has issued requirements for hotels and tourist facilities, including rules regarding open buffets and inclusive stay packages.

The chamber has banned inclusive stays and limited buffets to breakfast only.

It also ordered all hotels to provide disinfecting gates and tools for sterilization in all hotels, as well as adequate ventilation in all areas and informational signs to prevent the spread of the virus.
The chamber has also banned weddings, parties and nightlife activities.
In addition, it demanded that one floor in each hotel be allocated for quarantine and medical checks of guests before they enter hotel restaurants.
Governor of South Sinai Khaled Fouda stressed that governorate's executive bodies are preparing for the resumption of domestic tourism in the governorate's various cities, saying that the new measures will first be applied as an experiment starting mid-May.
Following a decision made by Egypt's Chamber of Hotel Establishments on Wednesday, Egypt's hotels will be allowed to operate at 25 percent of their full capacity.
If the experiment in South Sinai achieves positive results, Fouda said, operating capacity will be increased to 50 percent at the beginning of June.
Fouda also warned that facilities that do not adhere to these precautions will be shut down.
He explained that Egypt's decision is intended to help workers in the tourism sector who have been severely affected during the past two months, and to retain trained workers in the sector while at the same time preserving public health.
Edited translation from Al-Masry Al-Youm