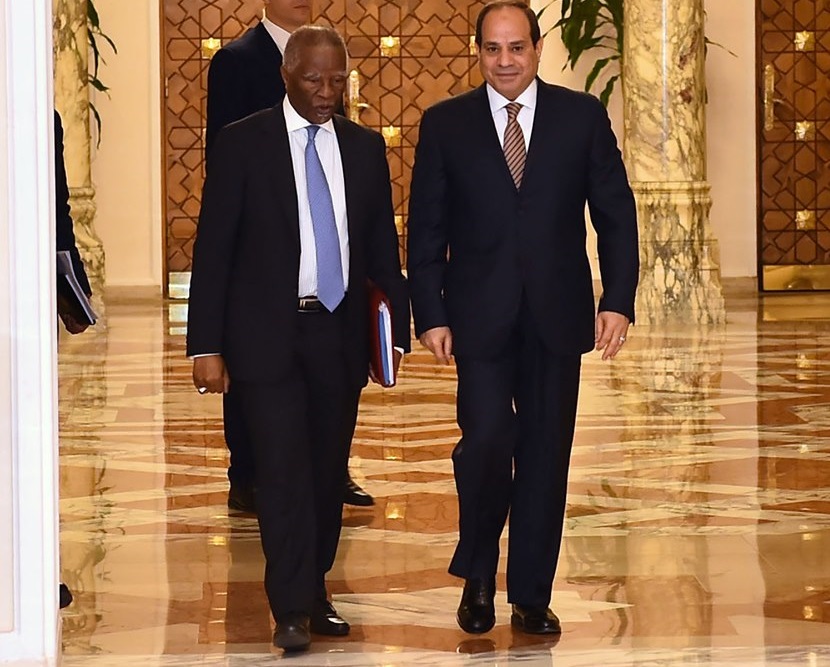 Egyptian President Abdel Fattah al-Sisi said on Tuesday that his country is providing assistance and support to Sudan to help it successfully conclude the transitional period and fulfill the aspirations of the Sudanese people.
Sisi made the remarks during a meeting with the head of the African Union High-Level Implementation Panel for Sudan (AUHIP), former South African President Thabo Mbeki.
Spokesman for the Egyptian Presidency Bassam Rady said that during the meeting, Sisi reviewed Egypt's efforts to support the restoration of security and stability in a number of African countries and expressed appreciation for the various efforts exerted by Mbeki in this regard.
The president stressed the special importance that Egypt attaches to supporting stability and peace in Sudan in light of the ongoing and developed relations between the two countries, Rady added.
He referred to Egypt's efforts in this regard, especially the consultative summit hosted in Cairo for the regional partners of Sudan in April with the aim of enhancing regional coordination and finding common ground based on a clear understanding by the concerned regional parties for developments in Sudan.
Rady said that Mbeki praised Egypt's role in supporting the efforts to maintain peace and security in Africa and to fulfill the initiative "Silencing the Guns" on the continent by 2020, a role that has been bolstered by Egypt's current chairmanship of the African Union.
Mbeki added that the meeting with Sisi also touched on some regional issues, particularly the security of the Red Sea and the means of achieving security and stability in the Horn of Africa region. Consensus was reached on intensifying coordination and consultation in this regard during the coming period.
Edited translation from Al-Masry Al-Youm