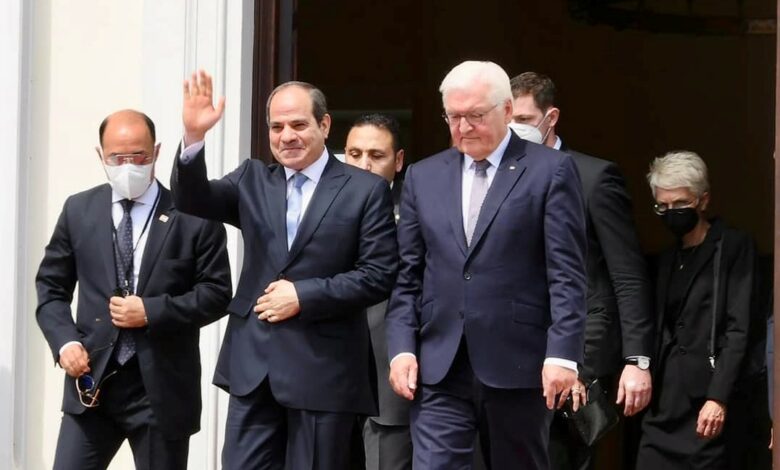 Egyptian President Abdel Fattah al-Sisi on Monday morning met with the President of the Federal Republic of Germany Frank-Walter Steinmeier.
Egypt's presidential spokesperson Bassam Rady said that Sisi expressed his appreciation for the warm German reception, praising the extended Egyptian-German friendship relation and their recent advancement.
He explained that the meeting dealt with some regional and international issues of common interest, especially the developments of the Ukrainian crisis, as well as Libya, Yemen and the Palestinian issue.
The two sides agreed on emphasizing the need to reach a just and comprehensive solution to the Palestinian issue in accordance with international references.
President Sisi expressed Egypt's desire to strengthen its ties with Germany, through the volume of German investments in Egypt – especially as Germany is one of Egypt's most important partners within the European continent.
He noted that it has a current great opportunity to be present in the Egyptian market to benefit from modern infrastructure and improved business performance climate.
The German president welcomed Sisi to Berlin, expressing Germany's pride in the historical ties that unite the two friendly countries.
He also praised the ongoing national development projects.
Steinmeier stressed Germany's keenness to support Egypt's development efforts in all fields through exchanging experiences and joint investment.
Lastly, President Steinmeier praised Egypt's pivotal role in consolidating stability in the Middle East and Africa.