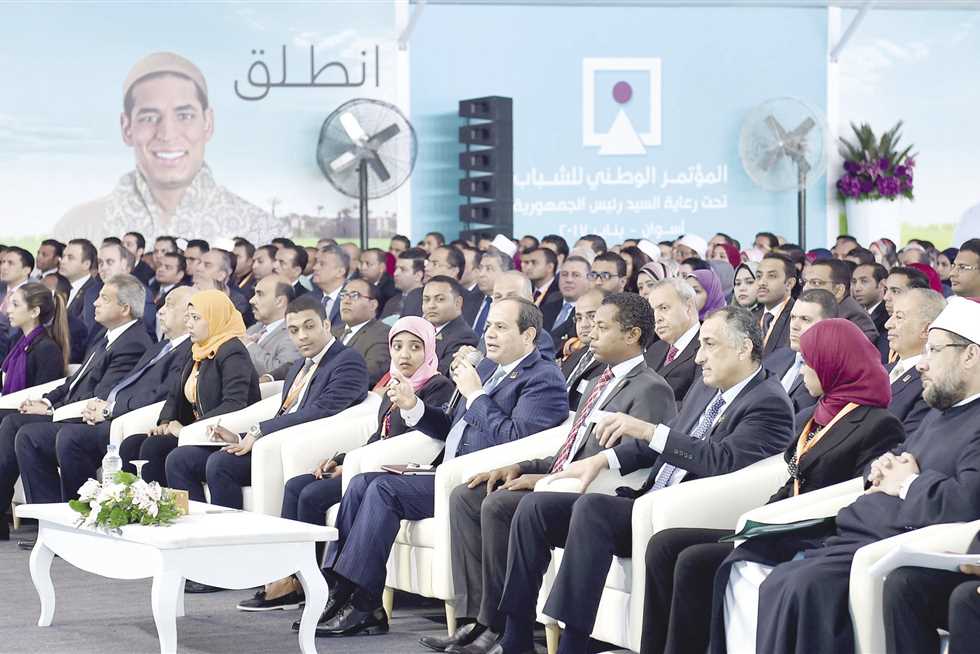 Egypt's Seventh National Youth Conference commenced Tuesday evening in the New Administrative Capital for the first time, with President Abdel Fattah al-Sisi sponsoring and attending conference settings held over the course of two days until Wednesday.
The National Youth Conference serves to gather young Egyptians from across the country to discuss society's most important issues in the presence of President Sisi. The conference acts as a forum providing an opportunity for promising Egyptian youth to direct their dialogue with the Egyptian state and its various institutions, charting a better future through a national vision, scientific planning and constructive dialogue.
After the inauguration of the seventh edition, the conference utilized a simulation of the Egyptian state in which young people act out the roles of executive and legislative powers.
At the end of the conference, an "Ask the President" session will take place over two hours, during which the President will answer the questions of the citizens, which have been received on the website of the conference during the past few days.
On the sidelines of the conference, and for the first time, a conference for donors to the Hayah Karima (Decent Life) initiative will be held. This will stress the Egyptian state's keenness to eradicate poverty and provide a decent quality of life for Egyptians in the poorest villages, and comes in cooperation with private sectors, civil society institutions and development partners.
The conference sees the attendance of 1,500 youth alongside several public figures, media professionals, statesmen, businessmen, ambassadors of African Union (AU) countries and representatives of international organizations.
The conference's agenda also includes the graduation ceremony of the first batch of African graduates from the Presidential Leadership Program (PLP).
Young people who are participating in the presidential program PLP said that selecting the New Administrative Capital to host the seventh edition of the conference represents a new start for the state, and the beginning of a step forward towards the future.
Edited translation from Al-Masry Al-Youm