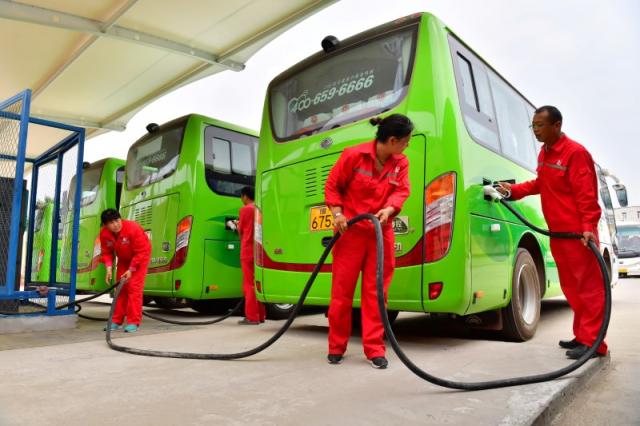 Prime Minister Mostafa Madbouly and Military Production Minister Mohamed al-Assar received on Tuesday the president of the Chinese company Foton Motor, to discuss joint cooperation projects.
The President of Foton expressed happiness at cooperating with Egypt through the Ministry of Military Production, to produce 2,000 electric buses in the Military Factory 200 over a period of four years, with the local component gradually reaching 45 percent.
He also confirmed that his company also laid the foundation stone for its factory in Sadat City on an area of ​​60,000 square meters, set to produce vehicles running on natural gas, with the plant's production to start on December 2020, the Spokesperson for the Prime Minister, Nader Saad said.
The President of Foton pointed out that the automotive feeding industry in Egypt is very strong, which makes Foton hope to reach 60 percent of its local component in the future.
Madbouly for his part welcomed ongoing cooperation with Foton, especially in light of the company's potential and global reputation.
In this regard, Madbouly referred to the ambitious plans adopted by the government to convert the diesel-powered vehicles into natural gas vehicles, optimizing the exploitation of Egypt's energy resources.
Madbouly also praised cooperation with the company for the supply and manufacture of buses powered by mass electricity, considering this a qualitative leap for the mass transport system in Egypt.
He added that Egypt represents a promising market for cars of various types and also offers tremendous opportunities for export to communities linked to Egypt though free trade agreements.
During the meeting, the Foton chairman said that his company was established in 1996, employs 32,000 workers in China, with annual revenues of US$14 billion, and sells its cars and transport vehicles in 110 countries around the world.
He pointed out that the company ranks first in the volume of commercial vehicle sales in China and second worldwide.
Edited translation from Al-Masry Al-Youm