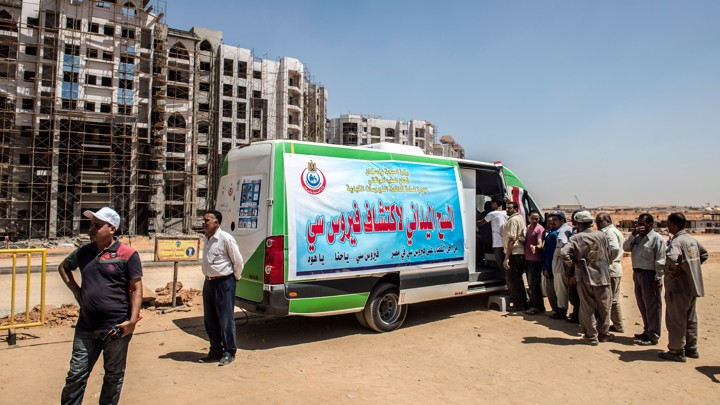 An official from Egypt's National Research Centre (NRC) of the Ministry of Higher Education and Scientific Research has confirmed that the country is ready to conduct clinical trials on its own coronavirus vaccine, called "COVIED VACC 1".
Youm7 newspaper reported the same official saying that clinical trials for the vaccine will begin on a group of 100 volunteers after the center receives the green light from the Egyptian Drug Authority (EDA).
According to the official, the vaccine has proven successful in animal tests.
Minister of Higher Education and Scientific Research, Khaled Abdel-Ghaffar, said back in July that the National Research Center had been working on four different vaccines against COVID-19, which all were in the stage of pre-clinical trials on animals.
In October, privately-owned newspaper al-Watan said that the NRC had almost obtained final approval from the EDA, and would start clinical trials within days.
The newspaper cited an anonymous source in the center as saying that the NRC had submitted all necessary documents, such as volunteer lists and the trial's schedule, to the EDA.
The source said that the center aims to conduct the trials in a scientifically thoughtful manner and in accordance with the laws and standards of global health organizations.
The third stage of trials may reach up to 3,000 volunteers, the source went on, saying that all volunteers will be compensated for their time and participation.
In addition to developing its own vaccine, Egypt's VACSERA struck a deal in September with China's Sinopharm to conduct human trials of the Chinese company's vaccine.
Meanwhile, the private Egyptian company Pharco agreed to import millions of doses of Russia's Sputnik V vaccine, as part of an agreement with the Russian Direct Investment Fund (RDIF).
The country has also reportedly been in talks aimed at importing millions of doses of a the Astra-Oxford vaccine, developed by researchers at Oxford University in partnership with AstraZeneca PLC.
Egypt has been bracing for a second wave of coronavirus, with daily infection rates increasing rapidly in November.
On November 13, the country's Health and Population Minister Hala Zayed ordered health directorates across the country to increase the capacity of isolation hospitals.
The Health Ministry on Sunday reported 351 new coronavirus cases, bringing the country's total confirmed cases up to 113,027.
Additionally, 13 virus-related deaths were reported.
98 patients were discharged from quarantine at isolation hospitals, raising Egypt's total number of fully-recovered cases to 101,881.
Patients are considered recovered from coronavirus if their symptoms disappear within 10 days of initial onset, according to the World Health Organization's guidelines.