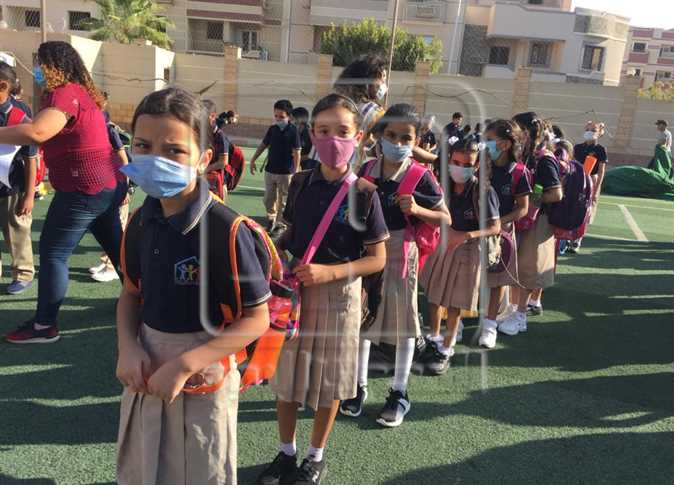 Egypt's new school year kicked off on Saturday amid intensive precautionary measures announced by the Ministries of Education and Health to confront the coronavirus.
Schools received students in the governorates of Fayoum, Beni Suef, Minya, Assiut, Sohag, Qena, Luxor, Aswan, North Sinai, Kafr al-Sheikh, Beheira and Ismailia, in addition to private schools, Egyptian Church schools and the joint Egyptian/Japanese schools.
Studies for 15 other governorates begin on Sunday, including Cairo, Giza, Alexandria, Qalyubia, Daqahlia, Sharqiya, Gharbiya, Menoufia, Damietta, Port Said, Suez, Red Sea, New Valley, South Sinai and Marsa Matrouh.
The total number of students back in school by Sunday will be 23 million.
The Education Ministry uploaded a video on Facebook which went over the various new educational methods under the pandemic.
School attendance days have been lessened so that the majority of the week will be available for students to study from home.
The educational satellite channel "Madrasatona" (Our School) will be used as a primary learning method, the video explained.
Students will watch lessons at home and self-study, with attendance days at school centered around discussing the lessons.
Students can review "Madrasatona" classes via the live broadcast platform for virtual classes.
Education Minister Tarek Shawki in September explained the new regulations for school year in light of the ongoing coronavirus pandemic.
Students will attend school on a rotating schedule, where they are in the classroom two days per week, and learning through online platforms for the remainder of the time.
Online curriculum and technology will be made available to all students.
Technology offered will include learning resources in all subjects on educational channels and live broadcast platforms, an interactive library, and an e-lesson platform, all provided by the ministry.
Shawki pointed out that there are support methods for students at all levels, and that those who have internet access at home can benefit from educational channels, the electronic library platform, and the live broadcast platform.
Those who do not have internet access can attend school and utilize the resources the schools have to offer, which is particularly important for primary-aged children.