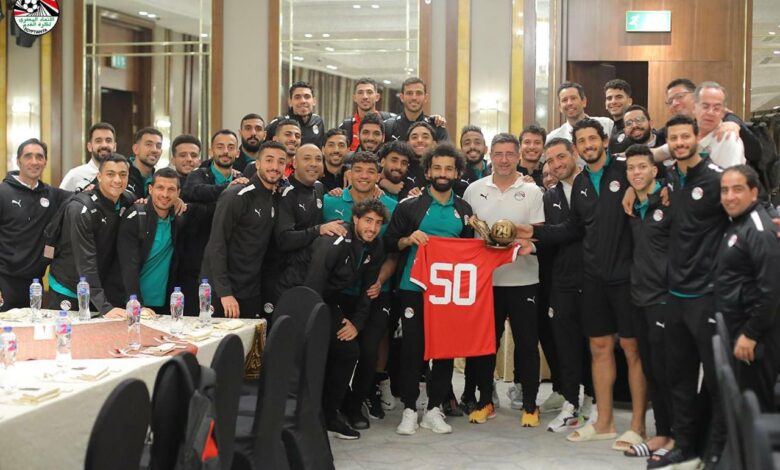 The Egyptian national team prepared a surprise for the Egyptian international and Liverpool FC striker Mohamed Salah handing him a shirt with the number 50 – celebrating Salah's 50th goal with the Egyptian national team.
Salah scored the 50th goal against the Malawi national team in the third round of Group D in the 2024 African Cup of Nations Qualifiers.
The team also celebrated Salah's 129 goals scored with Liverpool, which made him the club's historic scorer.
Salah thanked the national team for this kind gesture.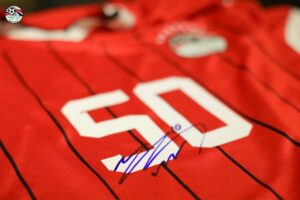 FIFA also celebrated Salah's 50th goal with the Egyptian national team.
The official FIFA account on Twitter published a tweet following his goal in Malawi: "Fifty goals for the Egyptian national team, the legend of Mohamed Salah on the international level made him turn into a global icon."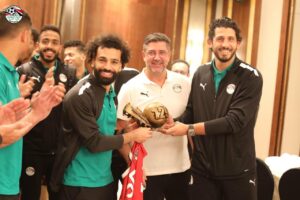 Salah's first goal for the team was against Niger in 2011, in the 2012 African Cup qualifiers, and it was his second official match for the Egyptian national team.
In addition to 48 goals in official matches, 17 goals came in the African Cup qualifiers, 12 in friendly matches, 11 in the World Cup qualifiers, 6 goals in the African Cup of Nations and two goals in the 2018 World Cup.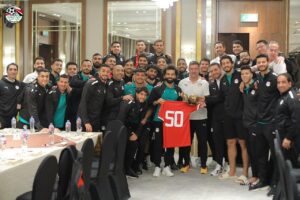 Egyptian football superstar Mohamed Salah arrived in Cairo earlier this month, to join the national team camp in preparation for the match against Malawi on March 24, at the Air Defense Stadium, as part of the qualifiers for the Africa Cup of Nations, to be held in Ivory Coast.
Salah broke another record this March by becoming the highest scorer for the Reds in the English Premier League after last night.
He later scored two goals during the Liverpool match against Manchester United at Anfield on March 5 in the 26th round of the English Premier League.
They ended up with the victory of, 7-0.