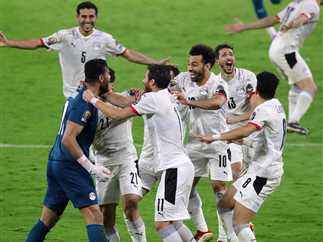 The Egyptian national football team has made a big leap in the world rankings issued by the International Federation of Football Associations (FIFA), on Thursday, ranking 34th globally.
Egypt has now been ranked 34th in the world in the FIFA rankings, rising 11 places, after it was ranked 45th in the world in the last FIFA rankings issued in December 2021.
Egypt is ranked third in Africa after Senegal, the Africa Cup of Nations champion, which ranked 18th globally, and Morocco, which ranked 24th globally, and Nigeria, which ranked 32th.
At the Arab level, the Pharaohs are only preceded by the Moroccan team, as Egypt occupied the second place in the new classification.
The Egyptian team is thus the third best team in terms of improvement, compared to the December classification, as Gambia rose 25 places from 150 to 125, and Equatorial Guinea rose 15 places, from 114 to 99.
The ranking of the top ten teams in Africa came as follows:
Senegal (18)
Morocco (24)
Nigeria (32)
Egypt (34)
Tunisia (36)
Cameroon (38)
Algeria (43)
Mali (48)
Côte d'Ivoire (51)
Burkina Faso (56)