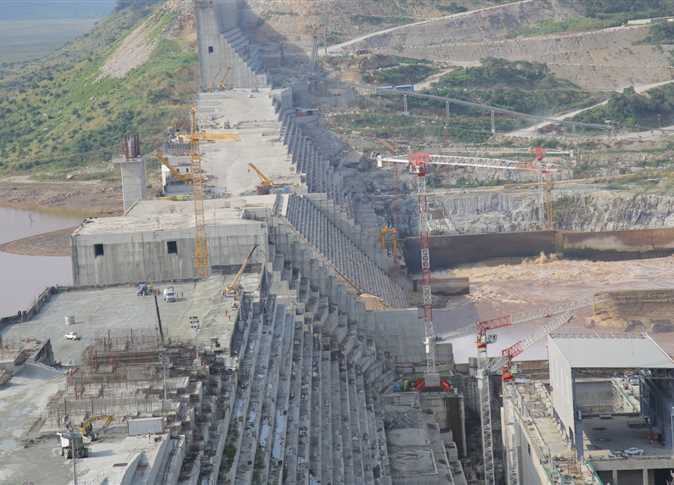 Egypt's Minister of Water Resources and Irrigation Mohamed Abdel Ati on Sunday met with the US envoy to Sudan Donald Booth and the European Union envoy Marina Fraila to discuss where negotiations currently stand on the Grand Ethiopian Renaissance Dam and ways to reach a fair and binding legal agreement on its filling and operation.
During the meeting, Abdel Ati reviewed the history of negotiations over the years and emphasized Egypt's clear desire to fairly complete them.
He also stressed Egypt's full support for Sudan's proposal calling for the formation of an international quartet led by the Democratic Republic of the Congo with the participation of the US, the EU and the UN to mediate between Egypt, Sudan, and Ethiopia.
The unilateral measures taken by the Ethiopian side regarding filling and operating the Renaissance Dam will result in dire repercussions, the minister warned, which makes the dam one of the major challenges facing Egypt now especially as the nation grapples with water scarcity issues.
Egypt fully supports all development in the Nile Basin countries, Abdel Ati said, and has steadily pursued reaching fair benefits for all parties involved.
The construction of the dam, which began in 2011, is considered to be one of Egypt's most serious water issues.
Egypt, which relies considerably on freshwater from the Nile, has voiced fears that the GERD would negatively impact the country's water supply, and has insisted that measures be put in place to protect downstream countries in case of drought during the dam's filling process.
Ethiopia, on the other hand, has stressed the importance of the project to bolster its economy, where more than half of the population currently lives without access to electricity.