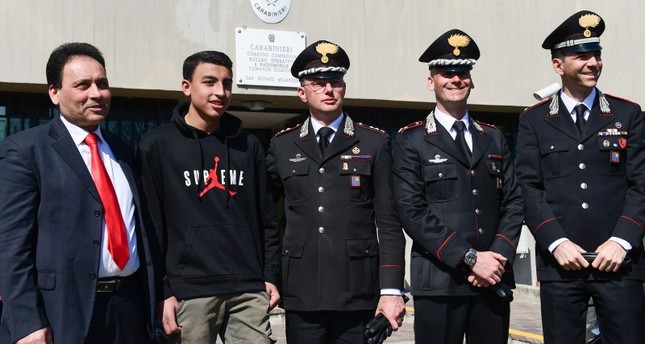 Egypt's Minister of Immigration and Expatriate affairs Nabila Makram has praised 13-year-old Rami Shehata after defying a man who hijacked a school bus in Italy on Wednesday and threatened to burn all 51 children on the bus.
Shehata had hidden his phone and called his father Khaled for help. The boy's father said that he immediately called the police and informed them that his son and his schoolmates were hijacked in North Italy's San Donato, nearby Milan.
The hijacker reportedly did so to avenge to drowned migrants in the Mediterranean.
Khaled added, "Authorities in Italy were keen on giving thanks to my son, who the Italian Prime Minister Giuseppe Conte will honor on Monday."
Thanks to Shehata's phone call, police stopped the bus and released the children before the driver could harm them.
Shehata was born in Milano after his parents migrated to Italy, yet did not have Italian nationality. In honor of his bravery, the Italian government granted Italian citizenship to Shehata, Khaled said, something he would otherwise obtain in 2023 at 18-years-old.
Shehata mother's al-Tahra Mohammed Ali al-Hadad expressed her pride as well, stating "I am proud of Rami who always has been facing difficult situations in a courageous manner."
Edited translation from al-Masry al-Youm