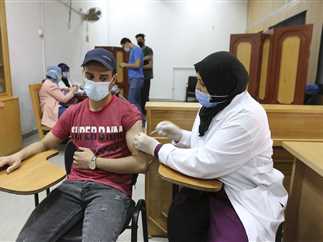 The Head of the Central Administration for Preventive Medicine Affairs at the Ministry of Health Mohamed Abdel Fattah reiterated the ministry's warning against a fourth wave of the coronavirus in Egypt, stressing that everyone adhere to precautionary measures.
Egypt has provided many vaccines either through the VACSERA factories or imported vaccines, Abdel Fattah said in a telephone interview with the "Al-Youm" program on Sunday.
There 512 vaccination centers for citizens in addition to vaccination centers for travelers, he added, as well as thousands of medical mobile teams and convoys that target citizens in different gathering places.
According to Abdel Fattah, Egypt has been recording an increase in the number of daily infections with 331 new cases confirmed Sunday, compared to 318 on Saturday.
This increase in infections started more than two weeks ago, he warned, and appealed that all citizens get vaccinated as soon as possible.
He assured that vaccination rates have now witnessed a major breakthrough thanks to the produced and imported vaccines, with plans in place to reach a monthly production of more than 15 million doses.