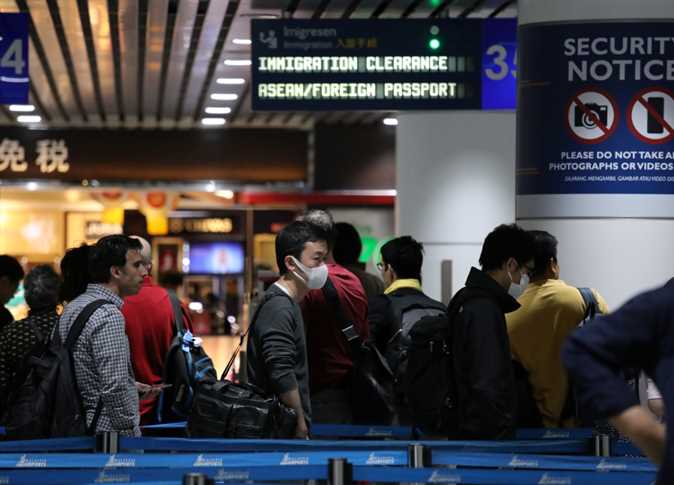 Egypt's Ministry of Health has started issuing "health monitoring cards" to travelers arriving from China at the Cairo International Airport, the head of the Preventive Medicine Sector at Egypt's Ministry of Health Alaa Eid said on Monday, as China discourages its citizens from traveling abroad amid an ongoing outbreak of coronavirus that has killed over 100 people and infected more than 4,500 in mainland China so far.
Travelers will be required to share relevant health information on the cards as part of Egypt's efforts to prevent the spread of coronavirus at its airports.
Thought to have originated in an animal market in the Chinese city of Wuhan, the coronavirus outbreak has spread to over a dozen countries worldwide despite efforts to curb travel and lockdown infected cities.
Germany, Canada and Sri Lanka have announced their first infections, bringing the total number of countries with confirmed cases to 15, according to a report from AFP.
The list of countries with reported cases of coronavirus also includes the United States, Australia, France, Canada, Japan, and South Korea, among others, according to The New York Times.
However, no verifiable cases of the virus have been reported in Egypt so far, and in the Monday statement, Eid denied reports that a Moroccan traveler who was stopped at Cairo's airport was infected with the coronavirus.
He also denied that a Chinese traveler infected with coronavirus was detained in the Aswan Fever Hospital, stressing that the individual in question was suffering from the seasonal flu, was treated, and left the hospital.
Egypt's Minister of Health Hala Zayed has inspected the quarantine room at the Cairo International Airport and Sharm al-Sheikh International Airport, according to Eid, and has requested an increase of the quarantine rooms' staff, who are responsible for performing medical examinations on travelers from China.
He pointed out that the quarantine room transfers suspected cases to the Fever Hospital to undergo medical tests and x-rays.
Eid clarified that pharmaceutical companies are not yet able to manufacture a coronavirus vaccine and that any drugs used are only for treating the virus's symptoms.
Also on Monday, an official statement published by the Association of Egyptian Travel Agencies announced that Egypt had suspended all flights from or to China, citing concerns over the outbreak.
The statement added that all trips to Egypt's tourist sites, including the Red Sea resort towns of Hurghada and Sharm el-Sheikh that had been booked by Chinese travel agencies were canceled.
Edited translation from Al-Masry Al-Youm