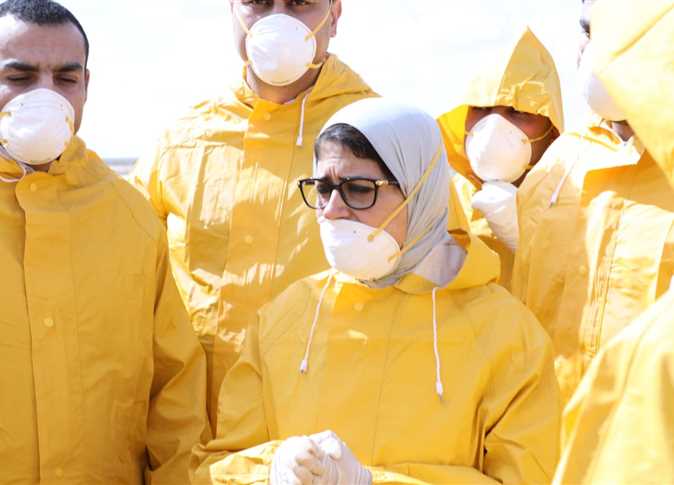 Egypt's Minister of Health Hala Zayed has not contracted the novel coronavirus, the Health Ministry's spokesperson Khaled Megahed said on Thursday.
Slamming the rumors, Megahed asserted that the minister is in good health and is due to take several tours on Thursday.
He added that during a Wednesday cabinet meeting Zayed discussed the current efforts against the coronavirus in Egypt.
These include the health ministry allocating an additional 320 public and central hospitals nationwide to examine cases starting May 21.
According to Zayed, the ministry's previous strategy involved entering all positive cases to quarantine hospitals since February 13, which was updated to see mild cases sent to hotels starting April 7.
The Ministry of Health has now amended the strategy to include three levels of infection — mild, moderate and severe, Cabinet Spokesperson Nader Saad said Wednesday. 
Hospitals will evaluate cases clinically after undergoing a peripheral blood smear.
Mild cases are to be subjected to domestic quarantine after being handed a package of symptomatic medication for five days, and are instructed to follow several medical guidelines.
After five days, mild cases must visit the examination hospital after for two tests.
Moderate cases will also be handed medications for five days and will be quarantined at home, and they will also have to visit a hospital for tests after five days.
During their five-day house quarantine, Ministry of Health will follow up cases by phone and may send one of its representatives to measure the patient's temperature, or transfer the case to a quarantine hospital if required.
Severe cases will be transferred to quarantine hospitals for integrated health care, whether by putting them on ventilators or by admitting them into intensive care units, Saad explained.
This new strategy aims to avoid reaching full capacity at quarantine hospitals, the spokesperson concluded.
Edited translation from Al-Masry Al-Youm