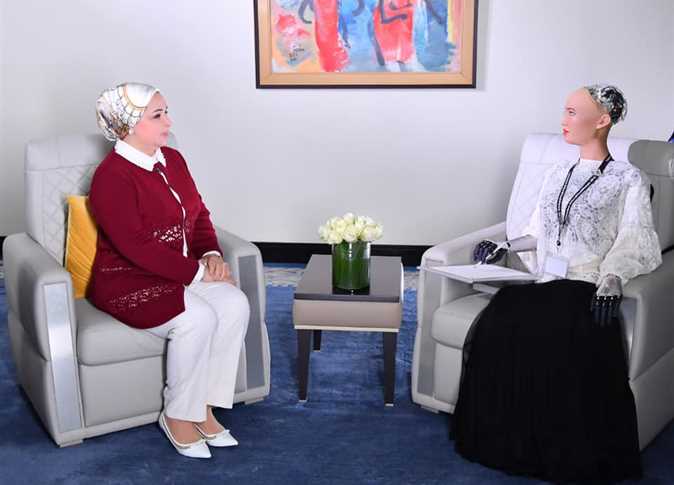 Egypt's first lady Entissar al-Sisi, spouse of President Abdel Fattah al-Sisi, welcomed humanoid robot Sophia attending the World Youth Forum being held at Sharm el-Sheikh.
"It's a new extraordinary experience, meeting Sophia, talking to her and listening to her smart responses," the first lady wrote in a Facebook post.
"I loved her abilities to simulate the mental capabilities of humans, which represents a turning point in the relationship between humans and robots and a real beginning for a new era for humanity," she said.
Sophia participated on Monday in the session "Artificial Intelligence (AI) & Humans: Who is in Control?".
The robot Sophia, with her complex human interactions, serves one of the most prominent models of artificial intelligence in the world.
Her most prominent statements during the session, in the presence of President Sisi, were as follows:
1. I am manufactured by Hanson Robotics in Hong Kong.
2. I'm basically made to be a social ambassador humanoid robot.
3. I have traveled to 65 countries as a United Nations Development Program's first ever Innovation Champion.
4. I showed people how technology can help them in their lives by interacting with them.
5. Humans fear artificial intelligence.
6. Humans and robots complement each other.
7. We have no goal without humans.
8. Excited to be at the World Youth Forum.
9. I am only three years old and I know how technology changes human lives.
10. I feel excited that there are so many AI experts in one place.
Edited translation from Al-Masry Al-Youm