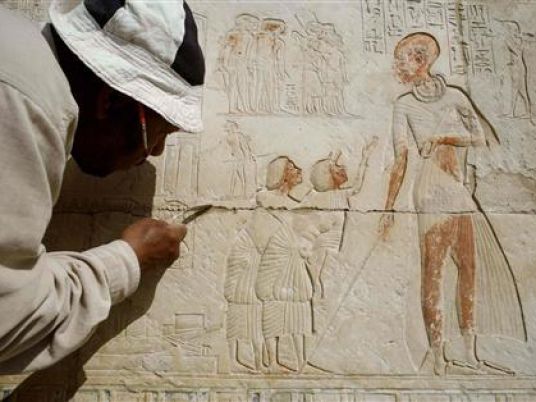 The Director of the Curriculum Development Center at the Education Ministry Nawal Shalaby announced that the ministry will teach hieroglyphics the in school curricula next year.
During a Monday phone-in with the "al-Youm" TV show, Shalaby explained that the new curriculum will pay special attention to archaeologically and tourism, starting with kindergarten and up to the first to third grades of elementary school.
Hieroglyphic symbols will be taught starting from the fourth grade.
"We began to introduce ancient monuments, our pharaonic history, and the history of Egypt throughout all ages, and how we respect the antiquities," she explained.
She added that students knowing their ancestors, their history, writing and their monuments is a way of appreciating and understanding their civilization better.
Minister of Tourism and Antiquities Khaled al-Anany on February said that he met with Education Minister Tarek Shawki to discuss introducing archaeological and touristic material to the educational curricula, to help foster an awareness of history for the newer generations.
Anani told the al-Watan newspaper that the scientific office in the Ministry of Antiquities has completed a booklet on archeology, in cooperation with the Ministry of Education, which will serve as an atlas on the antiquities of Cairo and Giza for students, especially the primary stage.
An atlas of the ancient map of Egypt is being made, through which students can trace the history and civilization of Egypt, he added.