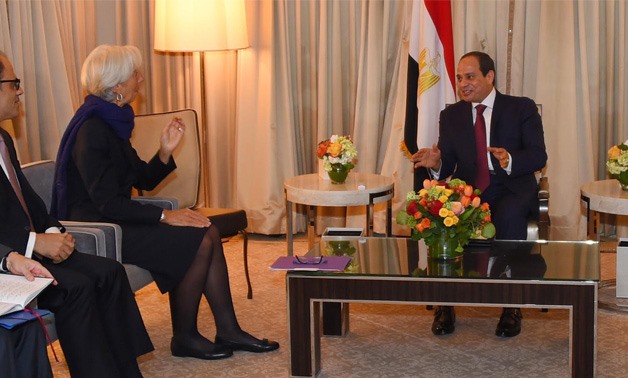 International Monetary Fund (IMF) Director Christine Lagarde announced that Egypt's economy has become one of the highest growing economies in the Middle East.
Following a meeting with President Abdel Fattah al-Sisi, on the sidelines of the 73rd United Nations General Assembly, Lagarde said that "President Sisi and I discussed the progress under Egypt's economic reform program supported by the IMF's $12 billion Extended Fund Facility. Egypt's economy is showing strong signs of recovery, and its economic growth is among the highest in the Middle East."
Lagarde added the next step for Egypt to continue down this track of growth would be to depend more on the private sector, explaining that "We agreed on the importance of capitalizing on Egypt's macroeconomic gains to advance the authorities' home-grown structural reforms."
"These reforms will help achieve more sustainable, inclusive and private-sector led growth which will help create jobs for Egypt's young population, while also ensuring adequate resources are available for social protection. I reiterated the Fund's commitment to support Egypt and its people," she said.
Lagarde stressed on the continuation of cooperation between Egypt and the IMF, adding that the IMF will help Egypt achieve its goals for 2030, in a way that does not neglect those of limited income.
Sisi assured Lagarde that Egypt was exerting effort to create an an environment where investments would be used to increase growth, decrease unemployment as well as lower the general debt. He also presented some legislative and administrative steps taken to attract investments.
The president took the chance to thank the Egyptian people for their patience, adding he believed this program presents an absolute solution to Egypt's economic problems and will achieve a growth that will be felt by every citizen.
Lagarde and Sisi's statements came following a meeting on the side of the 73rd UN General Assembly (UNGA) , currently taking place in the UN headquarters, New York. Sisi is set to meet some of the most important political players in the world, including US President Donald Trump.
The 73rd UN General Assembly takes place from September  18 to October 4. The first day of the high-level General Debate will be Tuesday, September 25.
In an attempt to fix its ailing economy, Egypt obtained an IMF loan in 2016 in exchange for going through a rigorous reform program, beginning with floating the pound. Executive Director of the International Monetary Fund (IMF) Hazim al-Beblawi announced in August that the current fiscal year of 2018/2019 would see the reform program completed after the three years the Egypt government began applying it.
Beblawi said that Egypt succeeded in implementing all that was requested in the economic reform program, with high efficiency.