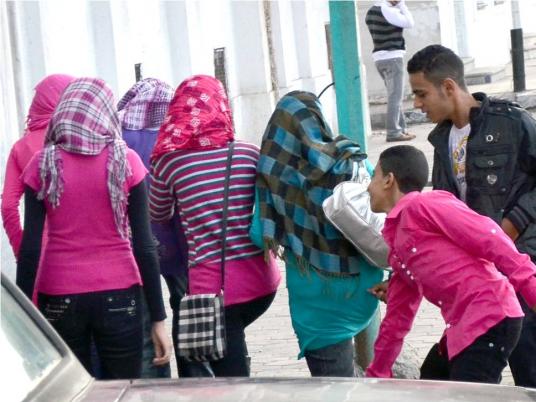 Egypt's Dar al-Iftaa, the government's principal Islamic legal institution for issuing fatwas (religious edicts), said on Wednesday that sexual harassment is Haram (banned) in Islamic Sharia as one of the major sins, and is also a crime punishable by law.
"Sexual harassment is committed only by those with sick souls and despicable passions who direct their desire toward degeneracy in the mud of lust, acting in an animalistic manner without any mental or human control," Dar al-Iftaa said in a Facebook statement.
Al-Azhar has previously discussed this issue, saying that "harassment is a prohibited and absolutely condemned behavior," while commenting on recent incidents in Egypt and calling on Egyptian society to "enforce laws that criminalize harassment and punish its actions."
Al-Azhar, the most prestigious religious institution in the Sunni Muslim world, denounced sexual harassment to try to stop it following incidents in which people were attacked.
Azhar asserted that the criminalization of harassment and harassers must be absolute, impartial to any condition or context. Justifying harassment because of the woman's behavior or clothing expresses a misguided understanding as sexual harassment is an assault against privacy, freedom and dignity.
Azhar called for laws to be enforced that criminalize and punish sexual harassment. It also called on concerned institutions to raise awareness about forms of harassment and their dangers, urging the media to avoid broadcasting material that promotes harassment or encourages harassers.
National holidays in Egypt have become associated with a peak in sexual violence and increased incidents of harassment and rape.
A study by UN Women in 2013 found that 99.3 percent of the Egyptian women and girls surveyed reported having been subjected to verbal or physical harassment at some point in time.
In 2014, sexual harassment was finally criminalized in Egypt after the government approved a law punishing harassers with imprisonment of no less than six months, and/or fines of LE3,000 to LE5,000.
Edited translation from Al-Masry Al-Youm