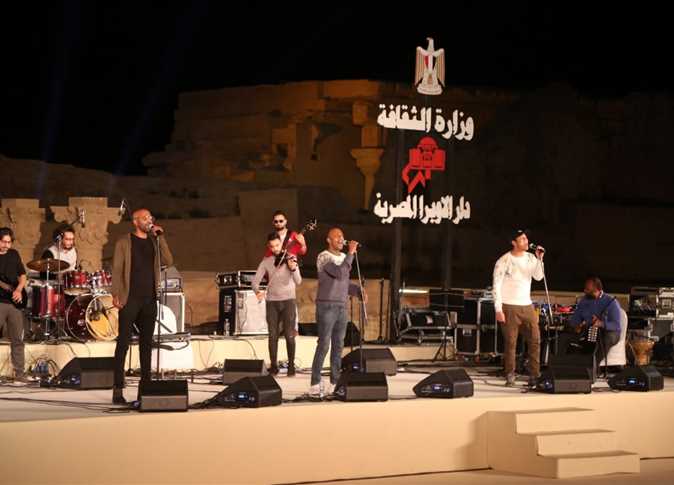 Egyptian Culture Minister Enas Abdel-Dayem launched the first edition of the Dendera Festival for Music and Singing in Qena governorate on Friday.
The opening ceremony was held at the Dendera Temple yard, attended by Minister of Tourism and Antiquities Khaled al-Anany, Governor of Qena Ashraf al-Daoudi, President of the Cairo Opera House Magdy Saber, President of the General Authority of Cultural Palaces Ahmed Awad, Chairman of the General Egyptian Book Organization (GEBO) Haitham al-Hajj, and about 8,000 spectators.
Luxor and Qena folklore troupes presented a group of folkloric tableaux, which was followed by a performance from the Black Theama band after which Medhat Saleh sang a bouquet of his works.
President Abdel Fattah al-Sisi declaring 2020 as the Year of Culture and Awareness shows faith in the ability of soft powers to develop society, Abdel-Dayem said.
She added that the Dendera Festival is Qena's first festival of this kind and reflects the government's focus on Upper Egypt to bring purposeful art there and confront intolerance and extremism.
Egyptians across thousands of years have built an immortal civilization that continues to fascinate the world in its grandness and diversity, the minister said, with unique art reflecting the Egyptian identity.
Abdel-Dayem thanked the Tourism and Antiquities Minister and the Governor of Qena for supporting the festival, and paid tribute to everyone who participated and contributed in organizing events.
Anany expressed his joy at the huge turnout from the people of Qena in an archaeological site hailed as one of Upper Egypt's most beautiful temples, saying that they can get in touch with their homeland's antiquities and fine art.
This festival comes as part of a series of cultural and artistic activities held with the Culture Ministry across various archaeological sites, he added.
Celebrations at the festival also included a book fair as well as an exhibition of plastic arts and handicrafts.
Edited translation from Al-Masry Al-Youm