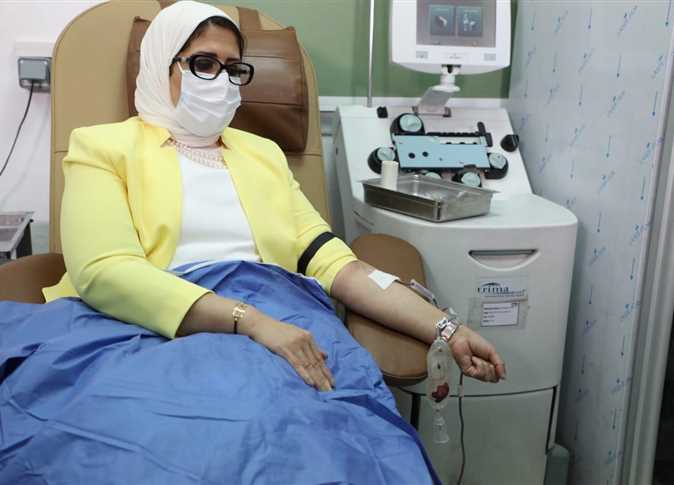 Egypt's Minister of Population and Health Hala Zayed announced her participation in one of the ministry's clinical trials for a Chinese-made coronavirus vaccine on Monday.
The Ministry of Health is actively recruiting volunteers for the trials, under the slogan "For the sake of humanity".
Conditions for participation in the trials have also been published by the ministry, who is working in cooperation with the Chinese government and the UAE healthcare company G42.
Three centers in Cairo have received vaccines and are set to conduct the trials: VACSERA, the Abbasiya Chest Diseases Hospital, and the National Liver Institute.
Zayed said that seven out of 135 vaccines have managed to reach the third stage of clinical trials. Of the seven vaccines, four are Chinese, two of which are being used in Egypt's clinical studies.
Volunteer registration for the third phase of the trials opened on September 12.
Participants in the third phase of the trial can expect to receive two doses of the vaccine 21 days apart.
The expected period of effectiveness of the coronavirus vaccine is not long and may only last for six months, according to the ministry. A close follow-up with the volunteers has been promised by the ministry, including antibody testing 45 days after the initial dose.
The eligibility requirements for the trial are as follows:
Volunteers must be 18 years or older.
Volunteers must sign an informed consent waiver.
Volunteers must be Egyptian nationals or foreigners who have residency status.
Volunteers must undergo a physical examination to determine eligibility for the trial.
Volunteers with any of the following conditions are considered ineligible:
Cold symptoms such as a fever or a cough 14 days before the trial

Known allergies to any ingredient in the vaccines
History of epilepsy, seizures, or using immunosuppressive drugs
Diseases such as asthma, heart, liver or kidney disease.
Undergoing a blood transfusion within three months of volunteering.
Pregnant women or women intending to become pregnant during the trial period.
The ministry aims to recruit 6,000 volunteers for the trials. Those interested can visit this website to apply for the clinical trials of the vaccine.