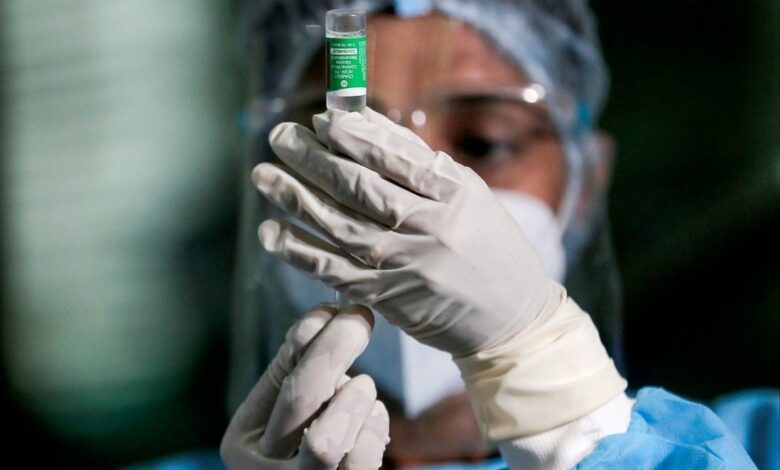 Egypt's Ministry of Health and Population on Wednesday reported 1,910 new coronavirus cases, 29 deaths, and 1,870 recoveries.
A total of 415,468 cases have been reported in Egypt, with 22,460 deaths and 349,427 recoveries.
The fourth coronavirus wave has not yet ended, is a statement by Mohamed Awad Tag Eddin, Adviser to the President of the Republic for Health Affairs, adding that the end of the wave will come after a decrease in the number of infections after its rise, and that has not happened so far.
The Ministry of Health and Population issued an urgent publication on January 26 due to surging coronavirus cases in Egypt.
Instruction to all hospitals in Cairo Governorate to postpone for two weeks any non-emergency medical operations as long as it does not put the health of the patient at risk due to the high occupancy of intensive care units in most governorates at over 70 percent capacity.
The Ministry of Health also instructed turning al-Mataria Educational Hospital, Zayed Al Nahyan Hospital, 15th of May Hospital, and Heliopolis Hospital into isolation hospitals with its full capacity, verifying the availability of all medicines and supplies, and intensifying follow up on the implementation of treatment protocols.
The publication also called to increase the number of beds in the internal departments and intensive care units designated for patients with coronavirus to 50 percent of the total number of beds as a minimum, adding the percentage could be increased depending on the number of cases.
The Egyptian Drug Authority announced granting an emergency use license for the "Molnupiravir" drug, after passing the necessary assessments to deepen the localization of the pharmaceutical industry in Egypt.
According to the authority's statement, thanks to the continuous cooperation between the Egyptian Drug Authority and various state institutions and industry partners, Egypt will be the first country in the Middle East to issue an emergency registration license for a coronavirus drug – a global leap in the pharmaceutical industry locally.
Tag Eddin also pointed out that so far, 500,000 people have been vaccinated with the third booster dose.
The Ministry of Health and Population in Egypt announced on January 23 that it had received 1,842,750 doses of the Pfizer coronavirus vaccine, provided by the US government through the COVAX mechanism in cooperation with the International Alliance for Vaccines Gavi.